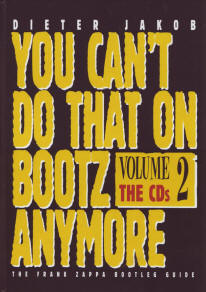 You Can't Do That On Bootz Anymore
Volume 2 The CDs

Dieter Jakob


2009
ISBN –
492 pp, hardcover, 30 x 21,5 cm
English
---
This is the 2nd volume of bootleg catalogues by Dieter Jakob. As always a highest quality hardcover book in limited edition of 100 numbered copies. ( Volume 1 - You Can't Do That On Bootz Anymore - The Vinyl)
Dieter Jakob (2008/12/14):
After many years of work I'm finally happy to spread the news that the book "You Can't Do That On Bootz Anymore Vol. 2 - The CDs", a book about the unofficial work of Frank Zappa on CDs is ready to be printed.

Some facts in short:

500 pages A4 (large format), almost every page full coloured. Hardcover with thread sewing. Digitally printed on special high quality paper (paper used for illustrated books). More than 2600 photos from covers, CDs, booklets, many details, etc. about 500 different titles.

The book is most probably the most comprehensive work about the unofficial records on CD of Frank Zappa, and might remain it for a very long time.

Due to the fact that the production cost will amount to a small fortune and that I want to distribute the book on a self-cost base (don't start celebrating too soon, it won't be cheap anyway!), it's very important to me to know how many of you are interested in the book.

Please let me know how many copies you want to purchase. The number of requests will be the number of books going to be edited.

In order to give you an idea about what you are ordering (you don't have to buy a pig in a poke), you'll find enclosed a pdf-file with some excerpts.

Due to the low numbered edition and to the high quality production the book will cost around 125 Euro (shipping not included). Delivery will be in spring 2007.

Please send me your order and the number of copies you want to purchase latest until December 31, 2008.

Delivering will be in spring 2009.

Payment can be in cash (registered letter only), money transfer to my German bank account and paypal (+5 Euro).

Music is the best!

Dieter
Dieter Jakob's second volume on Frank Zappa bootlegs is out! It's another impressive release. Expensive, sure, but rather limited (100 copies) and extremely well done. Heavy paper, lots of pictures and the most complete work around.
Volume two is all about the Zappa bootleg CDs: bootlegs, counterfeits, and more.
For me, together with the first volume, this book marks the end of the bootleg era.
A beautiful piece of work.
You Can't Do That On Bootz Anymore Vol. 2 - The CDs - Help wanted