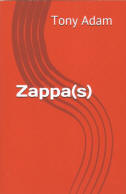 Zappa(s)
Independently published
2017 April 19
ISBN 978-1521105887
56 pp (unpaged), paperback, 20 x 13,5 cm
English
---
This book is unpaged and has only 56 pages, but is printed with very small font and is actually more capacious.
Zappa(s) takes a thematic approach to Frank Zappa's work and approaches him as a satirist, Postmodernist, guitarist, composer, outsider and influence on other (European) musicians. It argues that certain parts of his vast recorded output are of more interest than others and tries to identify what he was good at and, conversely, what he may have been thought to be good at but perhaps wasn't. As with Tony Adam's earlier book on European jazz-rock, Zappa(s) is written in an accessible style and geared to newcomers to the music as well as older hands.
Tony Adam has been a Zappa fan since the early '70s and despite his exasperation with some of Uncle Frank's less inspired work he has largely kept the faith. He lives in modest retirement in Southern Italy and wiles away his time with music, beer, football, writing, and his wife and grey cat. This is his second book on music, the first being Elastic Rock: A Survey of Jazz-Rock in Europe, 1968-80. He is currently working on a follow-up volume on The Americas, Australasia and Japan.
Bookshops