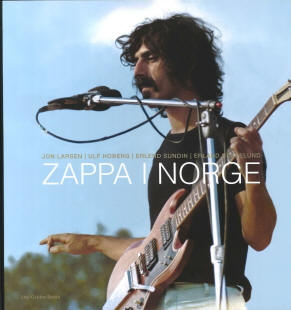 Zappa I Norge

Kunstbokforlaget DGB (Den Gyldne Banan), Oslo


2014 November 7 - 1st edition
ISBN 7029660050128
192 pp, hardcover, 30 x 30 cm
Norwegian
---
This big hardcover book in LP format contains over 300 previously unpublished photos of Frank Zappa's nine concerts in Norway, from Kalvøya Festival 1973 until Skedsmohallen 1988 and one promo visit for Baby Snakes. Plus set lists, posters, tickets etc.
The first limited edition in November 2014 was 1000 numbered copies. This edition was sold out very quickly, in days, and second corrected edition was printed in December 2014 (see below).
Links
Facebook
Zappateers
Youtube - the book release
Bookshops
Source: Javier Marcote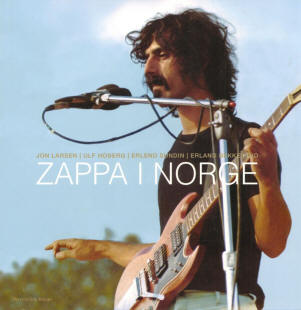 Zappa I Norge

Kunstbokforlaget DGB (Den Gyldne Banan), Oslo


2014 December - 2nd edition
ISBN 7029660050128
192 pp, paperback, 30 x 30 cm
Norwegian
---
Second, softcover edition of this book, was released very quickly, only a couple of weeks after the first print. The print run is not known. 2nd edition wasn't limited and numbered.
Tronsmo: "All the books are numbered as 000559 because it is a copy of one of the authors first page from the first edition with autographs from almost all of the involved."
Erland Bakelund on differences between 1st and 2nd print:
Hi Everyone. I'm Erland, one of The authors of Zappa I NORGE. I'm very pleased to announce that a new edition is available in stores in Norway. Since the first edition sold out even before it was dry from the print company, we decided to make another edition. Unfortunately first edition contains 2 serious fact-fails and some design shames. This new one is more correct and also we are more pleased with the outcome. The new one contains several new picts from 1973 and 1976. Also new redesigned 1984 and 1988 chapter and Anything Any time etc chapter.
....
However the new edition contains new material. Several pages have new pictures, new design. Example: The Chapter about Dammenshallen 1984 has to me significant improvements, also the last chapter. In between several pages have corrected text, new design, new pictures.
Links
Facebook
Zappateers
Youtube - the book release
Bookshops