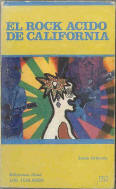 El Rock Ácido de California
(The Acid Rock of California)

Ediciones Jucar


1975 1st edition
ISBN 84-334-2023-2
240 pp, paperback, 18 x 11 cm
Spanish
---

Jsus Ordovs
Cover: J.M. Dominguez
Photos: Jucar archive & from the author.
Collection: Los Juglares 23
Index:
After the Gold Rush
La explosin del rock "West Coast"
Jefferson Airplane
Quicksilver Messenger Service
Grateful Dead
New Raiders of the Purple Sage
Moby Grape
Country Joe & the Fish
Byrds
Love
Frank Zappa
California Dreamin'

Antología de canciones
Discografía
Bibliografía
Frank Zappa. pp 121-130. (9 page article)
Bibliographical notes: "The Rolling Stones Interviews", "No commercial potential by David Walley -1972, "Zappa & The Mothers by Alain Dister & Urban Gwerder - 1975, Folk & Rock, Disco Expres ... between others.
Anthology of songs English-Spanish (pp 174-209)
We're Only In It For The Money, Mom & Dad, Bow Tie Daddy, What's The Ugliest Part Of Your Body?, Absolutely Free, Flower Punk, Nasal Retentive Calliope Music, The Idiot Bastard Son, It's His Voice On The Radio, Take Your Clothes Off When You Dance, Mother People, Dirty Love, I'm the Slime, Cosmik Debris, More Trouble Every Day.
Source: Javier Marcote