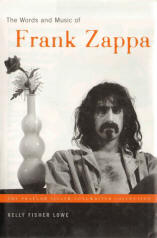 The Words and Music of Frank Zappa

Praeger Publishers


2006 April 30
ISBN 0-275-98779-5
260 pp, hardcover, 24 x 16 cm
English
---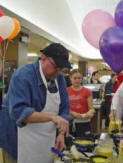 Kelly Fisher Lowe
1966-2007
Kelly Fisher Lowe (1966-2007) was the director of the learning resource networks at the University of Wyoming and is the author of 100 Years of Caring: The Centennial History of Alliance Community Hospital. He was previously associate professor of English and director of the American Studies program at Mount Union College in Alliance, Ohio.
Eulogy for Kelly Lowe by Michael King
Remembering Dr. Kelly Lowe
Books Depository
Reviews @ Amazon
Zappa Wiki Jawaka
The Idiotbastard.com
Charles Ulrich @ alt.fan.frank-zappa:
I'm afraid the title is a misnomer. The book is primarily about FZ's lyrics, with little about his music. Lowe admits on page xvii that "I am much more at home working with lyrics than I am working with music".
...
As for his discussion of FZ's lyrics, I'd say it tells you more about Kelly Fisher Lowe than it does about Frank Zappa. In that respect, it was reminiscent of Ben Watson's Negative Dialectics Of Poodle Play (not that Watson's book tells us much about Lowe). But I think Watson would acknowledge that his interpretations of FZ's lyrics don't necessarily reflect FZ's own intentions--and argue that there's no reason they should. On the other hand, I get the feeling that Lowe believes he really is describing FZ's feelings. And he hasn't persuaded me that he's right.
...
I'm not sorry I read it, but it wouldn't be the first book that I'd recommend to someone looking for a book on FZ.
Kelly Fisher Lowe @ alt.fan.frank-zappa:
It was not, and was never, intended to be an academic book. In fact, upon delivery of the original manuscript, I was asked to revise it for a more general audience. My only "scholarly" hope was to collect some of the loose bibliographic information in one place so someone working on Zappa in the future would have an easier time of it.
...
it's not a fan's book – by that I mean that Zappa's fans have a unique relationship to him and I had no illusions that I would be shedding any new light on Zappa's music (which was never the purpose of the book). It was, and is, my only hope that someone would stumble across the book in a library, get interested in Zappa, and check him and his music out. Period.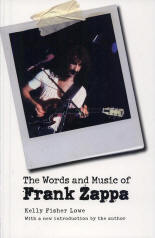 The Words and Music of Frank Zappa

Bison Books (University of Nebraska Press)


2007 October 1
ISBN 978-0-8032-6005-4
260 pp, paperback, 24 x 16 cm
English