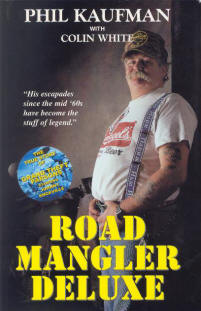 Road Mangler Deluxe

White Boucke Publishing, Lafayette, Colorado


1998 (printed 2003)
ISBN 1-888580-08-9
380 pp, paperback, 21,5 x 14 cm
English
---
The Washington Post, Richard Harrington, March 20, 1994:
In "Road Mangler Deluxe," the cheery-faced Kaufman tells tales on himself, some so tall as to defy belief and almost all inspired by his long career in the "Executive Nanny Service" as road manager to such stars at the Rolling Stones, Etta James, Joe Cocker, actress Elizabeth Ashley and Emmylou Harris... And plenty of Kaufman's client-pals have contributed testimony, including Rosanne Cash, Vince Gill and Frank Zappa: Kaufman was an emergency replacement for a Zappa road manager who had killed himself mid-tour.
Frank Zappa:
He is a unique individual who had a hard job to do. To get a glimpse of Phil Kaufman, you should see his performance in "Bay Snakes".