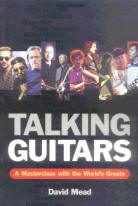 Talking Guitars: A Masterclass With The World's Greats

Sanctuary Publishing Ltd., London


2005
ISBN 1-86074-620-9
362 pp, paperback, 21 x 15 cm
English
---
Book of interviews with 60 world top guitar players. Contains an interview with Zappa from March 1993. The shorter version of this interview was published in Guitarist, June 1993.
D.Mead:
As far as I know this was the penultimate interview Frank Zappa gave before his death in December 1993.
...
What follows is a far more complete transcription of that call that followed than has previously been published.