---
The first comic book album entirely devoted to pop-rock music, Pop & Rock & Colégram brings together pages published between 1975 and 1978 in magazine Fluide Glacial. The album contains comics on The Beatles, Zappa, The Who, Pink Floyd, Celtic pop, Roxy Music, teutonic syths, Patti Smith, punk rock and disco.
The Zappa/Stinkfoot comics on pages 9-12 was first printed in Fluide Glacial #3, 1975.
Links
Pop et Rock et Colegram @ wikipedia
Beat The Boots I: 'Tis The Season To Be Jelly
Record Covers Drawn/Desgined by Comic Artists: Jean Solé [France]
Solé, Dister, Gotlib - Pop & rock & colegram >> SEFRONIA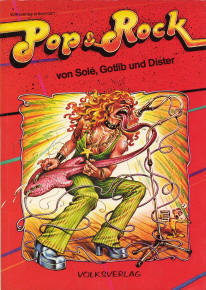 Pop & Rock

Volksverlag, Linden


1982
ISBN 3-88631-097-3
52 pp, paperback, 29,5 x 21 cm
German
---
German translation of a comic strip book called Pop & Rock & Colégram. Includes a 4-page comic strip about Frank Zappa's song Stinkfoot.