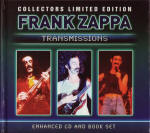 Frank Zappa
Transmissions

Edgehill Publishing Ltd.


2008
ISBN 978-1-906283-8
74 pp, hardcover, 12,5 x 14 cm
English
---
The book is an illustrated biography of Frank Zappa. The enhanced CD (by Storming Music) has Zappa's 'Saturday Night Live' appearances in the late 1970's in audio (in total 19:34) and same tracks in Quicktime video.
Chapters:
Frank Zappa ... ... ... Discuss
Freak's Canyon
The Torture Never Stops
For No Reason At All
Tracklist (audio length - video length):
I'm The Slime 1:24 3:22
Purple Lagoon 3:48 4:04
Peaches En Regalia 3:27 3:28
Dancin' Fool 3:24 3:36
Meek Shall Inherit Nothing 3:24 3:26
St Alphonso's Pancake Breakfast 4:07 4:16
Storming Music is releasing Transmissions, a series of live CD and DVD's, in hardback book style packaging, including 72 paged color booklets with track by track analysis. These are known as Grey releases, they are not published by the bands original record companies, are not bootlegs and are available freely in record shops and other venues.