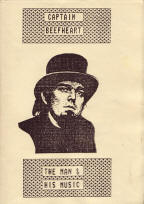 Captain Beefheart: The Man & His Music

Kawabata Press, Cornwall


1987
ISBN 0-906110-55-6
100 pp, paperback, 21 x 15 cm
English
---
First printing May 1987. Reprinted June 1987, July 1987 (twice), and August 1987.
Second revised edition published in February 1989 (ISBN 0-906110-61-0).
German edition published by Sonnentanz-Verlag in 1991 (ISBN 3-926794-06-2), reprinted in 2000 (ISBN 3-926794-34-8).
Back cover:
An account of the life and music of Captain Beefheart in over 30,000 words, including band line-ups, official and unofficial recordings and reviews of ALL legally available records.

Graham Johnston:
Captain Beefheart: The Man & His Music is a serious and entertaining attempt at telling the story of the Magic Band from Don and Frank's first meeting to Ice Cream For Crow and Don's retirement from the music industry, though it does contain considerably more music than man.

Captain Beefheart Radar Station
Magazine Q, February 1990, contains a review by Andy Gill on this book .