Debra Kadabra
Debra Kadabra, an internal publication for members of Italian Zappa fans society "Debra Kadabra", was published 1991-2006, in total 30 issues. See also "Our Bizarre Relationship", an afterword in issue #30 by Alessandro Pizzin.
The tables of contents are taken from archived debracadabra.com, now defunct site.
We are looking for issues ##23-27, 29-30.
DK 00
(Dicembre 1991)
Editoriale
The Duke Of Prunes - parte 1
Monaco 1988
Video video video: The dub-room special
Una serata con Frank Zappa e Pierre Boulez
The grand wazoo
Trivia
DK 01
(Marzo 1992)
Editoriale
The Duke Of Prunes - parte 2
Z(H)appy Birthday uncle Frank
Frank Zappa è malato
Honker home video
Barfko discografia
Sleep dirt 1 e 2
T'Mershi Duween poll 1991
Once upon a time
Zappa's universe
Cal Schenkel merchandise
Avanzi

DK 02
(Giugno 1992)
Editoriale
The Duke Of Prunes - parte 3
Red Ronnie intervista FZ
Video video video: The torture never stops
"FRANCESCO VINCENZO ZAPPA" su CD
La notte che le Mothers andarono a fuoco
YAHOZNA live 1991
Primavolta di ... Za.P
La musica di Arthur Barrow
DK 03
(Settembre 1992)
Editoriale
The bootlegs never stop
The Duke Of Prunes - parte 4
Take me out to the ball game
Primavolta di ... Andrea Iacoponi
Bologna ... the hardway
The torchum never stops vol 1.2.3.4
Video video video: Paris 1980
Recensione: YCDTOSA 5 e 6
Notizie
Posta
Zappanale n.3 promo
DK 04
(Dicembre 1992)
Editoriale
Niente Zhappy Birthday 1992
The Duke Of Prunes - parte 5
The Yahozna Convention
Primavolta di ... W.H.
Artworks
PLAYGROUND PSYCHOTICS
Primavolta di ... Francesco Cirillo
TERRY BOZZIO esclusiva
Fotografie
Notizie
Posta
Cruciverba Zappiano
DK 05
(Marzo 1993)
Editoriale / Il bollettino dei soci
The Duke Of Prunes - parte 6
JIMMY CARL BLACK esclusiva
Fotografie
THE EYES OF OSAKA
Notizie / Artworks
l'APE-FORMICA
Video video video: THE YELLOW SHARK
THE MUFFIN MEN
THE MAN FROM UTOPIA
Sandro Oliva
Primavolta di ... Giovanni Casalegno e di 'Mao tse tung'
DK 06
(Giugno 1993)
Editoriale
Arf! : Nemo profeta in patria
Contributi
Arf! : Risposte alle critiche
(the true story of) The Duke Of Prunes - parte 7
Interviste : SCOTT THUNES esclusiva
Fotografie
Contributi : OUR MAN IN ITALY
Traduzione : libretto AHEAD OF THEIR TIME
Aria Malsana 1
Notizie
Primavolta di ... Dany
Contributi : Il ritorno dei figli del mostro magnetico
DK 07
(Settembre 1993)
Editoriale
Progetto/oggetto
The Duke Of Prunes - parte 8
Zapping
Aria Malsana 2
MOON ZAPPA esclusiva
Io e Cal Schenkel
Notizie
Raccontino Siciliano
Posta
DK 08
(Dicembre 1993)
Editoriale
Arf! : Buon compleanno FRANK
Promo
(the true story of) The Duke Of Prunes - parte 9
Primavolta di ... Flavio Cerea
Interviste : DEN SIMMS esclusiva
Primavolta di ... Marco Drago
Traduzione : libretto THE YELLOW SHARK
Contributi : Zappa strips
Aria Malsana 3
Interviste : MIKE KENEALLY esclusiva
Contributi : Come mancare un'intervista ... perchè ho sete.
Notizie
Primavolta di ... Roland St. Germain
Posta
... Frank è partito per l'ultimo tour ...
DK 09
(Marzo 1994)
Editoriale
Arf!
... lettere in memoria di Frank.
Zappanate commemorative
Zappa of invention
Rassegna stampa
THE YELLOW SHARK
Cacca all'errore
Libri
Buon riposo, Frank
DK 10
(Luglio 1994)
Arf!
Notizie
Zio Frank
Frank Zappa nello spazio cibernetico
Posta
Siamo in missione per conto di Frank
Plastica Zappiana
The Duke Of Prunes - parte 10
Intervista a Mike Keneally (affz)
Gail
Cacca all'errore
Zappa in zoeloeland (vignetta)
DK 11
(Gennaio 1995)
Arf!
NeFZ
Enormous Wazoo
Libretto « CIVILIZATION PHAZE III »
Next stop planet ZappaFrank
Agosto Zappiano
Mothers, John & Yoko
The band from Utopia
Forse non tutti sanno che ...
The LAST episode (intervista "Pulse!" 1993)
Cheesee, please
Cacca all'errore
Planet Zappa (vignetta)
DK 12/13
(Agosto 1995)
Hungry freaks, daddy
Traduzione : Debra Kadabra
Varése
LSO Beer drinking Hooligans!
La fine della BBYNHIYLl
Zappa honors the hall of fame
Plastica Zappiana
... Hunchentoot ... un tentativo di ricostruzione
Testi « CIVILIZATION PHAZE III »
Cruising with YCDTOSA
Mike Keneally with The Mistakes (eng)
Contributi : Zappa (vignetta)
DK 14/15
(Febbraio 1996)
Arf!
NeFZ
Contributi : ... My name is Random
La madre delle invenzioni
Contributi : Mike Keneally parla con Adrian Belew
Episodi perduti
Negativland
Contributi : ... Lonesome Cowboy Nando
Traduzione : THE ADVENTURES OF GREGGERY PECCARY
Contributi : ... Un grande uomo costringe gli altri a spiegarlo.
Contributi : ... Siamo qui solo per i soldi
Contributi : ... Il labbro oratorio del D. Zurkon
Forse non tutti sanno che ...
Hungry freaks, daddy
DK 16
(Febbraio 1997)
Rubrica : NeFZ
Traduzione : libretto «LÄTHER»
Contributi : ... La madre di tutti gli illustratori
Traduzione : intervista Gary Panter
Traduzione : libretto FRANK ZAPPA PLAYS THE MUSIC OF FRANK ZAPPA
Contributi affz : ... 200 MOTELS, viaggio attraverso tutte le camere.
Trivia : ... Il mistero di Phydeaux III / Frank, Dylan & the dog
Traduzione : intervista THE SYN IN SYNCLAVIER
Contributi affz : ... The Father from Utopia - Ohyama Kohjitsu (eng)
Forse non tutti sanno che ...
Contributi : LOWELL GEORGE
The Music Makers radio shows
Interviste : JOE BLACK esclusiva
Traduzione : intervista BELGIAN WAFFELS IN PLASTIC
Interviste : JON NELSON esclusiva
DK 17
(Agosto 1997)
Forse non tutti sanno che ...
Contributi : Inca Road (eng)
Traduzione : libretto «HAVE I OFFENDED SOMEONE ?»
Contributi affz : ... Mike Keneally recensisce HIOS? (eng)
Contributi: Les fils de l'Invention
... Parla il facente funzioni del capo.
Interviste : MAX BENNETT esclusiva (eng)
Contributi : La roba che ci serve
Contributi : To Mrs Gail Zappa
Traduzione : Phil Franks LO SBADIGLIO
Traduzione : The Mothers of Invention Instruction Material (eng)
Interviste : Traduzione Paul Remington/Cosmik Debris DAVID WALLEY
DK 18
(Febbraio 1998)
Zappaween & Bogus pomp (ITA/ENG)
My Name is Random : Una strana storia di paternità musicale
The return of the son of Dio Fa
Peter Rundel & The Ensemble Mother(n)
Insieme agli OSSI DURI / OSSI DURI per tutti
Il nostro salone
Quando parla una Madre (intervista a Ray Collins) (ITA/ENG)
SCOTT THUNES, requiem per un peso massimo
Traduzione : libretto « 200 motels »
Sarteano 1997 (ITA/ENG)
Contributo : I figli maggiorenni di Frank Zappa
Contributo : Nostro sinologo ci spiega ...
Contributo : Una sensibile nostalgia per FZ (ITA/ENG)
Quiz sulle dimensioni del ca**o.
DK 19
(Luglio 1998)
Progetto/Oggetto
Note d'autore
Zappa Days a Spoleto
Viaggio cosmico o mappe stellari
Intervista : Ali [e]N. Askin (ITA/ENG)
Traduzione : Articolo di Ali N.Askin per Guitar Player 1992
Contributo : Il progetto Bonnen (ITA/ENG)
Traduzione : Libretto « Cucamonga »
Contributo : Zappa Cinematografaro
Contributo : LHIUTLI - Little house I used to live in
Recensioni : FZ connection
Contributo : Bookz
DK 20
(Febbraio 1999)
Contributo : Boston the Hardway
Intervista: Divertimento Ensemble
Intervista: PierreJean Gaucher
Traduzione : Out of ... Thunes
Traduzione : MUP (Baltimora/Swindon)
Gail : parla la regina
PazZap
Contributo : Ben Watson alla Sorbona I
Contributo : Zappanale n.9
Traduzione : Piccoli Puntini Neri
Contributo : Bookz
Contributo : Introduzione a
Recensioni : FZ connection
DK 21
(Luglio 1999)
Traduzione: Holiday in Berlin
Articolo: Assurdita' Intercontinentali al DeTour
Traduzione: Zappa sucks
Rubrica: Lampi Brevi (aka NeFz)
Contributo: Quel volto nella roccia
Articolo: Mike Keneally
Contributo: Ben Watson alla Sorbona II
Articolo: Il mistero rivelato
Articolo: Dalle corde Cardiache (ITA/ENG)
Intervista: John Poole (ITA/ENG)
Traduzione: Cucamonga Again
Traduzione: Frank Zappa e la guerra
Articolo: Elogio della Trasparenza
Articolo: Denominazione Fanatica
Articolo: Zappadays 99
Articolo: FZ Domani
Contributo: I was a teenage Moose Freak!
Contributo: Come allevare figli incredibili
Recensioni: FZ connection
Contributo: Bookz
DK 22
(Febbraio 2000)
Contributo : Fils de l'Invention
Articolo : Frank you Thank!
Articolo: EIHN ha lasciato the vault
Traduzione : Grow Fins
Traduzione : Latest box of tricks
Traduzione : La mia vita da clonemeister
Intervista : Il cavaliere dell'ordine dei templari della celebrità
Articolo : ZappaWeen V
L'uomo che ritagliava le radiografie (1)
Traduzione : Sinister Footwear - la composizione vivente
Articolo: Civilization Phaze III
Articolo : FZ Domani - sampler
Recensioni : FZ connection
Contributo : Bookz
DK 23
(Novembre 2000)
Ensemble Modern a Bologna
Ike Willis live in Italy
Steve Vai a Roma
Vai & Keneally
Chad Wackerman a Roma
L'uomo che ritagliava le radiografie (2)
Diego Conti
YAWYI & TR remasters
Bookz
Recensioni
DK 24
(Febbraio 2001)
Traduzione: 200 Motels
Traduzione: The true story of 200 Motels
200 Motels - il disco
Intervista: Morgan Agren
Intervista: Jim Pons
Rubrica: Bookz - segnalazioni librarie
Recensioni: Segnalazioni discografiche
DK 25
(dicembre 2001)
Lumpy Gravy
Xenocronie
Orchestra spaziale Casadei
Thing-Fish in Liverpool
Mystery Band
Un D.T.
Mats and Morgan
Cynthia Plaster Caster
A.f.fzers: i dischi
DK 26
(giugno 2003)
Zappafest a Bordeaux
Ossi Duri & Ike Willis
Miss Pamela intervista Gail Zappa
Halloween
FZ:OZ
FZ in Japan 1976
Intervista Napoleon Murphy Brock
Intervista Thana Harris
Intervista Ed Palermo
Intervista Project Object
FZ Connection
Bookz
DK 27
(Giugno 2004)
A pound for a brown on the bus
Grunt People (part 1)
Best Band (part 1)
Baby Snakes
Intervista: Ali N Askin
Intervista: Ed Mann
Intervista: Michael Pabst
Surround pioneer Award
Noi siamo i Mothers
Ice Z
Rassegna stampa
Recensioni: Segnalazioni discografiche
DK 28
(Luglio 2005)
Lampi Brevi
Lettera a Reagan
Prima di Mp3
Grunt People part.2
Joe's corsage, Quaudiophiliac, Joe's domage
Intorno a Lumpy Gravy
Leggete bene l'etichetta
10 anni di Vaulternative
Intervista: Candy Zappa, Nigey Lennon
Absolute Ensemble a Colonia
GrandMothers
DK 29
(Giugno 2006)
Editoriale
Imaginary Diseases
Resolver & Brutality
Festival de Amouges
Zap-Machine
Thing-Fish
I Leggendari suoni di Zappa
DK 30
(Dicembre 2006)
Editoriale: Our Bizarre relationship
Zappa Plays Zappa a Milano
The Best Band You Never Heard In Your Life
TERRY ricorda
La vera storia degli UNCLE MEETINGS
Editoriale:
Our Bizarre Relationship
di Alessandro Pizzin
Eccoci ai saluti
A distanza di oltre 15 anni (il che francamente sembra davvero incredibile) si chiude questa avventura del DebraKadabra. E' stato senza dubbio un percorso che ha dato molte soddisfazioni a tutti quelli che – a vario titolo – sono saliti sullo scalcinato carro autodeterminato, autogestito ed autofinanziato della passione italiana per Frank Zappa.
Nel 1991 lo scenario era molto differente, soprattutto provate a pensare alla difficoltà di allora per reperire materiale audio e video (mica c'erano già i "peer-to-peer") e si andava incontro a spese esagerate per andare ad alimentare il "mitico" ARCHIVIO DK (da cui qualche associato della prima ora ha acquisito interessanti reperti audio … ma cui qualche altro ha invece trovato il modo per raggranellare qualche soldo come terza parte).
Nonostante gli inevitabili errori fatti sono serenamente convinto che il sincero tentativo di mantenere viva la memoria di Frank Zappa sia stato una delle motivazioni più "sentite" per inventarsi situazioni di incontro tra soci e di cimentarsi in analisi del materiale audio via via recuperato con tanta dedizione e passione. "In quei giorni" non c'erano altre vie per parlare di Zappa e sono assolutamente convinto che qualche piccolo contributo alla causa – anche se in modo non ufficialmente autorizzato – lo abbiamo saputo dare eccome!
Mi ricordo comunque che in occasione dello Zappanale 13, c'era una sorta di amichevole reverenza da parte degli Arf Crew di Bad Doberan nei nostri confronti, meritevoli di tale trattamento per la nostra capacità di aver mantenuto sempre buoni rapporti con lo ZFT. Almeno secondo loro … eh eh eh.
In conclusione dell'ultimo editoriale, permettetemi di ringraziare gli amici vecchi e nuovi che hanno trascorso del tempo in compagnia del DK e a cui hanno dedicato preziose porzioni delle loro giornate Maurizio Follin, Francesco Gentile, Ale Sordi, Giorgio Salvadego, Filippo Bellavia, Pietro Scuderi e tutti quelli che in un modo o nell'altro hanno collaborato nel tempo a far si che questo esperimento non più da adolescenti permettesse di veicolare quella straordinaria opera musicale che è stata quella del signor Frank Vincent Zappa di Baltimora, un musicista che ancora per molti anni sarà sicuramente in grado di stupire chiunque avvicini la sua opera con occhi ed orecchie ben aperte.
Arrivederci
KEEP ZAPPED (and … play his music anyway!)
PS.
Two versions of several first issues of Debra Kadabra are known. Different are only cover pages, inside and outside, the rest of the content is idetical.
We believe that this is the first print: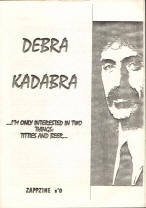 And this is the reprint: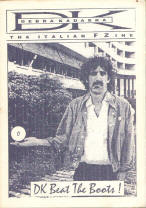 Debra Kadabra booklet