ADLIB
アドリブ

Japanese monthly magazine for jazz/fusion fans, once published by Swing Journal (1973-2010).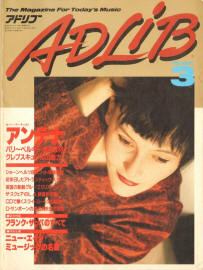 Vol. 16 No. 3
All about Frank Zappa - the Mad Genius of Rock
By Yuasa Manabu (湯浅学), Yagi Yasuo (八木康夫), Sergio Albonico, Kasai Masaki (河西正樹)
pp 89-104

---
TAN Mitsugu:
Includes Sergio Albonico's report on the rehearsal before the 1988 tour (translated by Izumiyama Manami (泉山真奈美)

A couple of excerpts:

"In order to make each show different, the songs are grouped into five categories - thus, the audience will never get bored with a fixed setlist."

"The rehearsals are being recorded all the time - not only sonically but also visually; Zappa uses three video cameras, which are feeded via cables into his recording truck called "Utility Muffin Research Kitchen" (UMRK), maintained by engineer Bob Stone."

The "Favorite Zappa album" spread (pp 100-101) features comments from various musicians and writers including George Duke, Watanabe Kazumi (渡辺香津美), Mizoguchi Hajime (溝口肇), Ogawa Mishio (小川美潮) and Peter Barakan.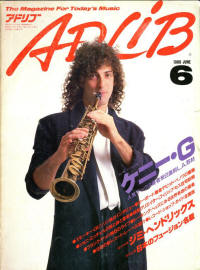 Vol. 16 No. 6
News of the World
pp 83-84

Frank Zappa: The Exciting Live Tour!!! (フランク・ザッパ 熱狂のライヴ!!!)
pp 136-137