Antelope Valley Press
The Antelope Valley Press (or just Valley Press) is a daily newspaper from Palmdale, California. Showcase is their weekly entertainment supplement, published every Friday.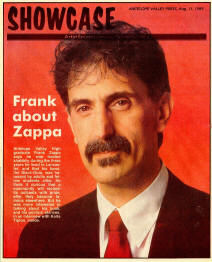 1989 August 11
Zappa talks frankly about art, politics
By Karla Tipton, pp H3, H14
---
Frank Zappa may be one of the most famous graduates of Antelope Valley High School. But for the three years he lived in Lancaster, he didn't like it much.
"When I lived in the desert, I actually didn't have a very nice time there," said the maverick musician-composer in a phone interview from his North Hollywood office. "I wasn't treated very well." (read more)
---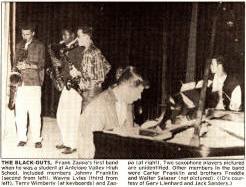 The article has a picture of Zappa's band The Black-Outs with a list of band members. See Zappa Wiki - The Blackouts for other band members lists.
THE BLACK-OUTS, Frank Zappa's first band when he was a student at Antelope Valley High School, included members Johnny Franklin (second from left), Wayne Lyles (third from left), Terry Wimberly (at keyboards) and Frank Zappa (at right). Two saxophone players pictured are unidentified. Other members in the band were Carter Franklin and brothers Freddie and Walter Salazar (not pictured). (ID's courtesy of Gary Lienhard and Jack Sanders.)
Source: www.karlatipton.com