Audio Universal
Audio equipment and music magazine published 1971-1981. This magazine also published the "Los Musicos Collection", which consisted of special issues or supplements with biographies of academic musicians. (
Guía de revistas de música
)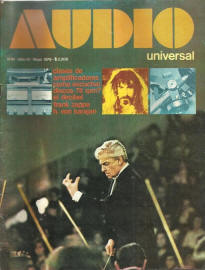 No. 61
La nueva música
Hoy: Frank Zappa
By Gustavo Curto, pp 44-46

---

Un músico sumamente creativo, pleno de talento, conocimientos, simpatía y buen humor. Una personalidad controvertida pero que ha entregado una de las mejores obras de la nueva música.
Automatic translation:
An extremely creative musician, full of talent, knowledge, sympathy and good humor. A controversial personality but one who has delivered one of the best works of new music.
Source: mercadolibre.com.ar