BBC Music Magazine
BBC Music Magazine
("The world's best-selling classical music magazine") is a monthly magazine. The first issue appeared in June 1992.
BBC Music Magazine
has also an edition in North America which was first published in March 1993. (
wikipedia
)
ISSN 0966-7180)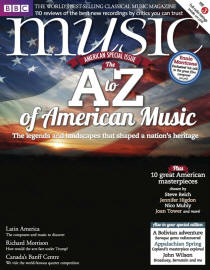 2016 November
Vol. 25 No. 1
An A-Z of American Music (pp 22-29)
Z is for Zappa (p 29)
By Brian Wise
---
You might not know it with titles like 'Dog Breath Variations' and 'Hot Rats', but Frank Zappa (above) had a deep and ongoing interest in the classical avant-garde. Inspired by Varèse, Webern and Satie, the iconoclastic rocker took up symphonic writing around 1970 with his score to the cult film 200 Motels. It was performed by the Los Angeles Philharmonic under Zubin Mehta. In the 1980s, Zappa's orchestral music was championed by conductors such as Kent Nagano and Pierre Boulez, who recorded it with the London Symphony Orchestra and Ensemble InterContemporain, respectively. Zappa's final project was The Yellow Shark, a commission from the Ensemble Modern.
Source: Vitaly Zaremba