Beetle
"Entertainment Coast to Coast". Canadian bi-weekly and later monthly rock zine from Toronto.
Beetle
started in December 1970 and lasted until 1975, when it was forced to fold due to financial pressure. (
Elaine Banks
)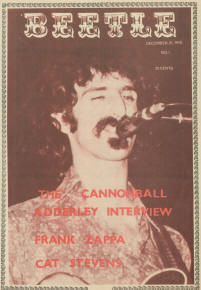 1970 December 21
Vol. 1 No. 1
---
From this issue we have only the cover picture. Please contact us if you have full issue.
Source: elainebanks.blogspot.com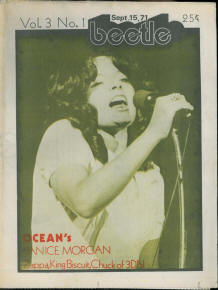 1971 September 15
Vol. 3 No. 1
Zappa Rings Our Chimes
By Beetle, p 9
---
The phone rings. It's Frank Zappa from California. He wants to talk about his new album "The Mothers Fillmore East, June '71". (read more)
Source: slime.oofytv.set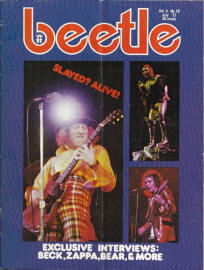 Vol. 4 No. 12
946 Motels Later
By Robert Bowman, 2 pp
---
Frank Zappa once again has put together a "permanent" edition of the Mothers Of Invention, one of the first true underground bands in rock. The third edition of the Mothers consists of George Duke (recently with Cannonball Adderley) on keyboards, Jean-Luc Ponty on violin (a virtuoso of amazing pyrotechnics), Ian Underwood (one of the beloved originals) on woodwinds, Ruth Underwood (Ian's wife) on percussion, Bruce Fowler – trombone, Tom Fowler – bass, Ralph Humphrey – drums and of course Frank on guitar and vocals. Recently Sal Marquez (trumpet) has been added as has a vocalist. This is basically the same band that put together "Wakajawaka" and "The Grand Wazoo."
Both these albums represented ventures into a jazz oriented music. "I wouldn't say we are a quote "jazz" band in sense of some people's idea of jazz. We don't play weird chords with a chunk-chunk beat and go off into the cosmos. We do improvise a lot and I will be playing more guitar than I did with the Volman, Kaylan set of Mothers. An example of that is my playing on "Eat That Question" (from "The Grand Wazoo"). Actually, that was a badly recorded solo. It's pretty hard to really stretch out when you are confined to a wheelchair which I still was from the accident when I recorded that."(read more)
Source: slime.oofytv.set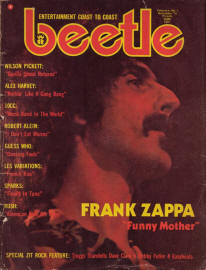 1974 December
Vol. 6 No. 1
Frank Zappa – Funny Mother
By Chris Lloyd, pp 25-27
---
Ottawa: Frank Zappa flopped down onto a bench seat in the small change room, heaved one leg across the other and took a long drag on his cigarette.
His hair was tied back behind his head, highlighting the fatigue in his face. He looked exhausted.
Hardly surprising. He'd just laid down another gig on The Mothers' hectic North American tour. The same night he had to bus 150 miles to the airport so that the following day the band could fly to the next stop on the tour. When the travelling was done they were due to start filming a T.V. special. Then the touring would start all over again, in Europe.
And now there was me, wanting an interview. (read more)