Berkeley Barb
The
Berkeley Barb
was a weekly underground newspaper that was published in Berkeley, California, from 1965 to 1980. It was one of the first and most influential of the counterculture newspapers of the late 1960s, covering such subjects as the anti-war and civil-rights movements as well as the social changes advocated by the youth culture. (
wikipedia
)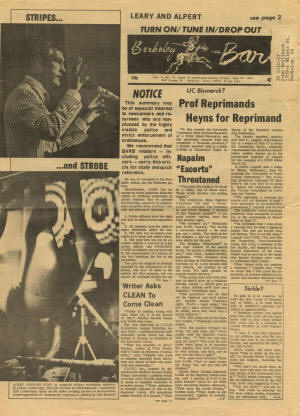 Vol. 2 No. 45
Rock'n' Freak
By Ed Denson, p 4
---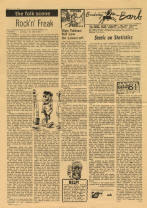 Note. This review of Freak Out! was printed in June 24. Freak Out! was released in June 27.
Now that I've heard it, I'm not so happy. Commercialism is the great destroyer, and it lowered the Fugs' power but it really got gross with the Mothers. To begin with the lp cover is terrible, a mixture of commercial pop art and the bad side of ESP covers. Heavy handed, the whole production. (read more)
Source: Javier Marcote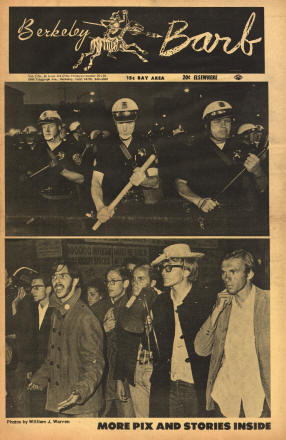 1967 October 20
Vol. 5 No. 16 Issue 144
Waving at the Fickle Future
By Ed Denson, p 11
---
Like the Beach Boys the Mothers of Invention are from Los Angeles. They share a certain tendency to distort reality, the Mothers, operating somewhat in reaction to the Beach Boys are uncompromisingly dedicated to the unpleasant. (read more)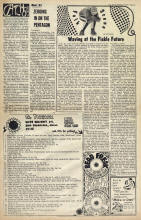 Source: Javier Marcote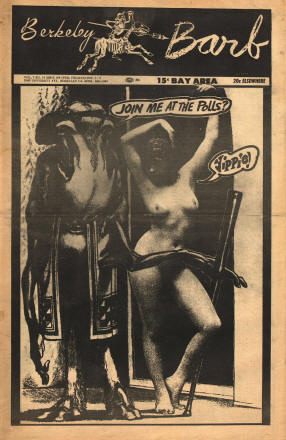 1968 November 1
Vol. 7 No. 19 Issue 168
The BARBer
By Berkeley Barb, p 7
---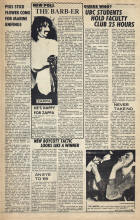 "It's fantastic! We'll win by a landslide!"
These were the words of Francis Vincent, local coordinator of Zappa-For-President, when BARB spoke with him Wednesday afternoon.
The jubilant Vincent had just received word of his candidate's third place running behind Eugene McCarthy and Mike Shannon in the 1968 BARBer Pole. (read more)
Source: Javier Marcote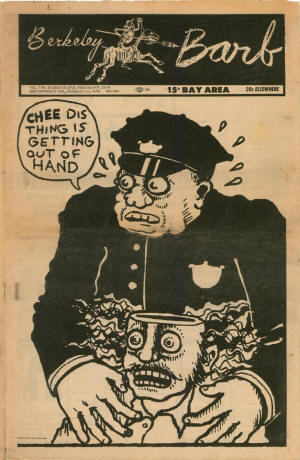 1968 November 22
Vol. 7 No. 22
Ya Muddah!
By Jef Jaisun, p 13
---
The world's most popular mother came to town Wednesday in the person of Frank Zappa, leader/conductor of the Mothers of Invention.
Zappa stumbled off a forty minute late commuter flight and quietly shuffled into the back room of Des Alpes on Broadway, smack into the laps of some twenty tongue in-cheek pen-in-hand media freaks. Including BARB.
Just recently returned from a tour of Europe and several appearances in New York, Zappa had the following to allow.
"New York is a very strange scene. The audiences are just like the city. The people are desperate to be entertained. They want to forget what's going on outside. (read more)
Source: slime.oofytv.set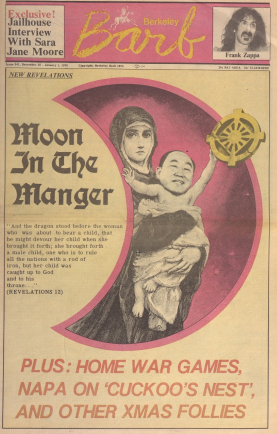 1975 December 26 - 1976 January 1
Issue 541
Zappa As Reporter, Historian And Cynic
By Michael Goldberg and Leslie Robinson, p 11
---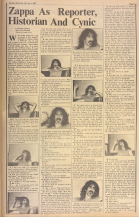 When Frank Zappa was a kid he wanted to be a chemist. Although he couldn't afford a chemistry set, he said with a gleam in his eye, "I could always get the materials I needed." One wonders if Frank Zappa may have, in a sense, realized his childhood dream. Not only does he manage to produce lyrical bombs by mixing diverse elements from unlikely sources, but he also reaches beyond the sterile white laboratory of a technician to the purple velvet underworld of an alchemical magician, where black primal matter is turned into pure gold. Along with Captain Beefheart, Zappa and the Mothers of Invention will be playing the Paramount Theatre in Oakland, Friday, December 26th and Winterland the following night. (
read more
)
Source: slime.oofytv.set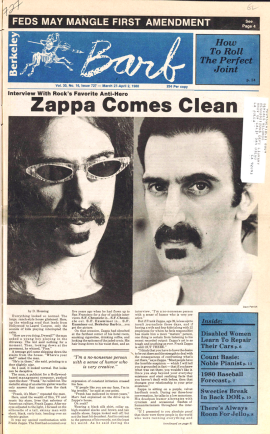 1980 March 27 - April 2
Vol. 7 No. 16 Issue 727
Zappa Comes Clean
By D. Housing, p 8
---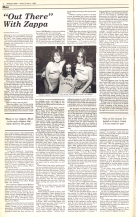 Everything looked so normal. The large, ranch-style house glistened. Here, up the winding road that leads from Hollywood to Laurel Canyon, only the sounds of kids playing interrupted the calm.
"How are you doing, Dweezil?" the man asked a young boy playing in the driveway. The kid said nothing for a moment. Then, looking down at the pavement, he whined, "Fine." (read more)
Source: Independent Voices