Blues News
Founded in 1968,
Blues News
(
BN
) is Finland's first and the world's second oldest still-publishing print product focused on blues and roots music. The magazine covers all kinds of roots music, from blues to rhythm'n'blues, soul and gospel, and from 1950s rock'n'roll to country and bluegrass.
BN
magazine is published by the Finnish Blues Society. (
bluesnews.fi
)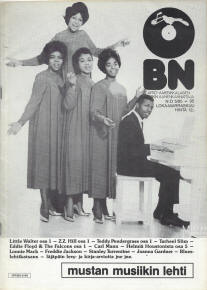 1985 October / November
No. 5
Frank Zappa "The Non-Existent Early Recordings"
By Kukka-Maaria Houru, p 46
---

Automatic translation: The time must be ripe. We can let Frank Zappa, the greatest genius of doo-wop and rhythm 'n' blues, off the hook for a moment. These early sessions of his '58 have finally seen the light of day. (read more)
Martti Tiainen:
Pen name "Kukka-Maaria Houru" is a joke to reviewer Jukka Hauru. Jukka Hauru is a musician (progressive music) and he wrote critiques in Helsingin Sanomat. His critiques were often very complicated and he appreciated virtuosity very much.