Buzz
Free entertainment guide for Albany, NY. Published by George Guarino: "I published a monthly fanzine
Buzz
begining as a one page 8"x11" Xeroxed tri-fold in 1983. The publication grew into a monthly Alternative Music Magazine and by September of 1985 was first professionally printed on newsprint in a tabloid format, distributed throughout the Capital Region and at alternative music stores around the country." (
UAG Member Site
)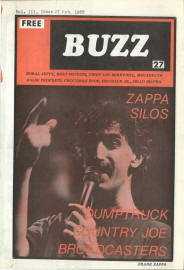 1988 February
Vol. 3 No. 27
Frank Zappa '88
By Dave Turner, pp 8-11, 18-20
---
Dave Turner: I had no idea that this whole house was like a studio.
Frank Zappa: Well, on the bottom part, we live upstairs.
DT: A bunch of these questions will be sort of ... well ... there won't be too much rhyme or order they'll just ...
FZ: That's fine, that's just like America ...
DT: Do you get tired of doing these interviews?
FZ: Oh, no ... I mean, some of them are stupid, but ... I did one a little bit earlier with Gannett Newspapers about the Larry Flint-Jerry Falwell supreme court case. Things like that can be amusing, but the ones that go, "What you eat for breakfast and that kinda stuff ...
Source: slime.oofytv.set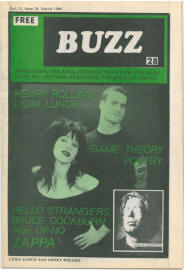 Vol. 3 No. 28
Frank Zappa Interview Part II
By Dave Turner and Lisa Weisberg, pp 24-25, 36, 46

Frank Zappa, Palace Theater 2/2/88
By Dave Turner, pp 34-35
---
HERE IT IS, - Part Two of our in depth, up close, candid, cozy interview with FRANK ZAPPA; If you missed Part One, you missed a lot, but don't let that keep you from reading this and don't let that keep you from registering to vote either. The scene is set in FRANK ZAPPA'S basement recording studio. Dave Turner and Lisa Weisberg are made to feel at home. (read more)
Source: slime.oofytv.set