Cavalier
Cavalier
is an American magazine that was launched by Fawcett Publications in 1952 and has continued for decades, eventually evolving into a
Playboy
-style men's magazine. In its original format,
Cavalier
was planned by Fawcett to feature novelettes and novels by Fawcett's Gold Medal authors, including Richard Prather and Mickey Spillane. (
wikipedia
)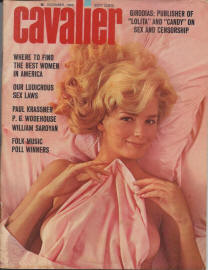 1966 December
Vol. 17 No. 2
Freak Out! - picture story
pp 72-73
---
It was Freak Out, Son of GUAMBO (the Great Underground Artists' Masked Ball and Orgy) and of necessety the Mothers of Invention were on hand with their big band electronic sound, and The Factory, and others. And there was a light show, and stroboscopic lights on the dancers, and it was in the Shrine Exposition Hall in Los Angeles, and there were five thousand people. And it was the people, the people most all, in ecstatic garb, from the kids to the hippies and beats of yesteryear, all there, all coming together. And they called for a memorial freak-in for Lenny Bruce at the cemetery (bring box lunches and noisemakers). And they say thet even the fuzz freaked out.
Source: slime.oofytv.set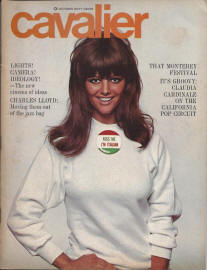 Vol. 17 No. 12
Claudia On The California Pop Circuit
pp 29-33
---
These pictures by Richard Avedon were first published in Italian magazine Epoca, July 1967.
page 30:
Frank Zappa, freak-out technician for The Mothers of Invention, taught her how to talk hip and turned her on to digger scene. Afterwards, Frank was invited to dig some method acting in the supermarket as Claudia out-Warholed Warhol.
Source: slime.oofytv.set