Circuit
The contemporary music journal Circuit is founded 1989 by Lorraine Vaillancourt, founder and artistic director of the Nouvel Ensemble Moderne, and Jean-Jacques Natties, it's first editor. The magazine is issued 3 times a year. ISSN 1183-1693.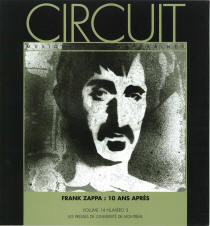 Vol. 14 No. 3
Frank Zappa: 10 ans après:
Avant-propos
Les métissages alchimiques de Frank Zappa (1940-1993) – Réjean Beaucage
Frank Zappa dans l'univers des musiques sérieuses: un parfait étranger? – Réjean Beaucage
Frank Zappa's Legacy: Just Another Hoover? – Ben Watson
Frank Zappa, l'esthétique d'un nomade – Nathalie Gatti
Frank Zappa devant l'éternel: postérité problématique d'un iconoclaste impénitent – Nicolas Masino
La morale de l'histoire…
Quelques horizons esthétiques de Frank Zappa – Louise Morand
Ruer dur et faire entendre
(Dix fragments sur l'art politique de Frank Zappa) – Michel F. Côté
In nomine Zappa, Zappatore
Sketch of an Hypothesis (S/Z2) + (sv/gv) – John Rea
À propos des illustrations (included in texts) – Cal Schenkel
---
Nice 120-page Zappa special "Frank Zappa: 10 years later". All but two articles are in French; Ben Watson on vacuum cleaners, and John Rea's analysis of the word 'zappa'. All articles are available as PDF for free.
Every Circuit issue has his own ISBN number and we had an option to file it under books. This issue is numbered ISBN 2-7606-1910-9.
Revue Circuit v14n3 @ amazon.com
Source: slime.oofytv.set