City Paper
Since 1977, City Paper offers Baltimore, Maryland's best coverage of news, culture, ideas, music, arts, theater, movies and events.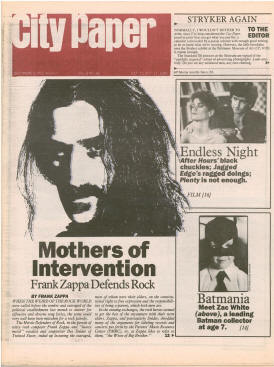 1985 October 11-17
Vol. 9 No. 41
Mothers of Invention
Frank Zappa Defends Rock
By Frank Zappa, pp 12-13

---
This is the well-known Frank Zappa's "Statement To Congress, September 19, 1985". Full text is available at everything2.com and www.vh1.com.
Source: slime.oofytv.set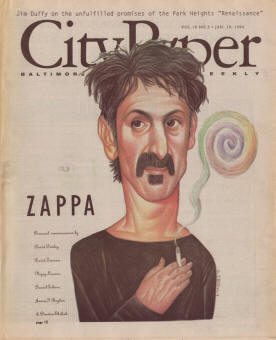 1994 January 19
Vol. 18 No. 3
Zappa
Personal reminiscenses by David Dudley, David Zinman, Nigey Lennon, Daniel Schorr, James F.Baylan, Dimitri Ehrlich, pp 15-19

---
The BSO seemed to do a yeoman job with The Perfect Stranger, however, running through its wacky polyrhythms and whirling unison xylophone bits in fine style. But when the final gong sounded and everyone clapped Zinman looked unsatisfied.
"Do you want to hear that again?" he asked the audience. The Meyerhoff crowd that night was an odd mix of well-dressed symphony seasoners and long-haired latter-day freaks wearing crusty old Mothers T-shirts; they all seemed mystified at the question. But Zinman returned to the podium and started the whole crazy thing over again, from the top. (read more)