Crawdaddy!
1966-1978. A true legend among rock mags, the New York City-based
Crawdaddy!
's first 14 issues were printed on an old mimeograph machine. (...)
Crawdaddy!
differed from other magazines of its era in that it took rock 'n' roll very seriously. In its first few years, it tended to focus on politics and the radical views of the time. Each issue contained a number of music articles and interviews, as well as many ads for new albums. (
CBub
)
28 more issues of
Crawddaddy!
published 1993-2003. In 2006 it was sold to Wolfgang's Vault and later resurrected as a daily webzine. Effective August 5, 2011, visits began redirecting to the music website Paste, which announced that Crawdaddy "relaunches as a blog on Paste, where we'll share stories from the Crawdaddy archives and publish new content on legacy artists". (
wikipedia
)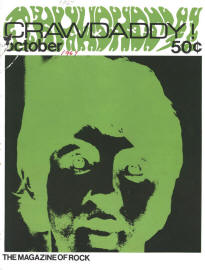 1967 September/October
No. 11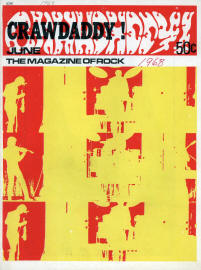 No. 16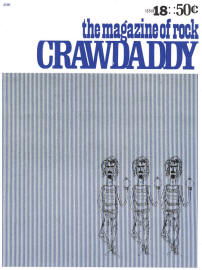 1968 September
No. 18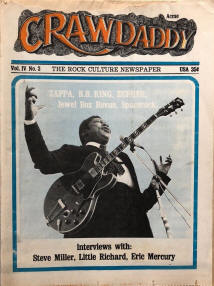 1970 March 30
Vol. 4 No. 3
No Commercial Value
By Davin Seay, pp 3, 46
---
Anyway, in this age of specialists I specialize in sitting around stoned and trying to draw comparisons between records, groups, album covers, what-have-you; and that's mostly what this is about, the records being Permanent Damage (Straight STS-1059), by the G.T.O.'s, An Evening with Wildman Fischer (Bizarre 6332), Trout Mask Replica (Straight STS 1053) by Captain Beefheart, and various Mothers of Invention albums. (read more)
Source: The Waldo Scrapbooks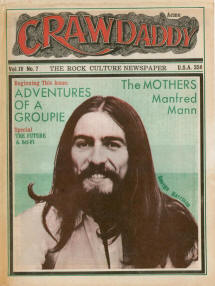 Vol. 4 No. 7
Alchemy, Hagiography & Hieroglyphics vs. The Teenage American Archetypal Theme
By Miles, pp 3, 31-32

Mothers Day With The Mothers
By Dick Lupoff, pp 3, 32
---
(1) Frank Zappa is chief Mother on the Hollywood hagiography, the conscience of the industry, the essence of West-coast pop, a rare fusion of the energies, creativity and ideas that make up the Big Beat which lives on.
Plotting in his cell, a crazed Artephius, Zappa preserves this vital energy, tends the nerve plants, stores the beauty in Canopic urns, de-fuses the explosives for later use and watches with mild dismay as fads and bubblegum music crash past his garden gate. He rarely goes out, preferring to stay in and grow the tapes, all at 15 inches per second. (read more)
Source: slime.oofytv.set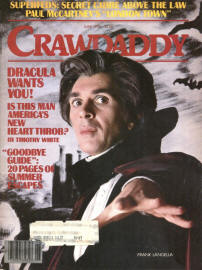 Issue 78
Plastic Man
By Andy Doherty, p 75
---
Recorded live late in 1976, Zappa in New York sounds as much like formula work as anything this character has ever foisted upon his public. Anyone at all familiar with Zappa's recent work could have guessed how many minutes this album would devote to audience-appeasing raunch, or what proportion of the concert would be extended in more cerebral endeavors. Even the infamous Zappa sneers could have been pencilled in beforehand. (read more)
Source: The Waldo Scrapbooks