Crawdaddy
Crawdaddy!
was the first U.S. magazine of rock and roll music criticism. Created in New York in 1966 by college student Paul Williams in response to the increasing sophistication and cultural influence of popular music,
Crawdaddy!
was self-described as "the first magazine to take rock and roll seriously." Williams left the magazine in 1968. In 1979 the magazine changed its title to
Feature
but closed after only 5 issues. In 1993, the
Crawdaddy!
title was relaunched by Paul Williams as a self-published magazine. After 28 issues, this closed in 2003. In 2006 the title was was sold to the Wolfgang's Vault website and was later resurrected as a daily webzine, but in 2011 it became part of the Paste website. (
rocksbackpages
)
See also
Feature
.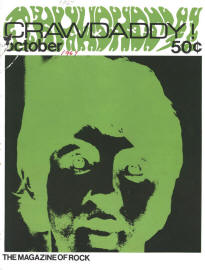 1967 September/October
No. 11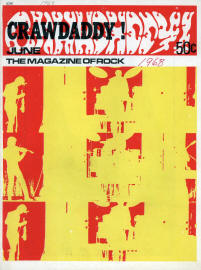 No. 16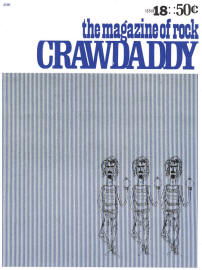 1968 September
No. 18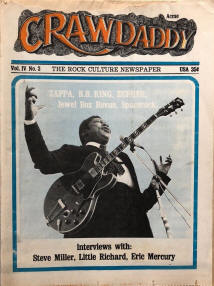 1970 March 30
Vol. 4 No. 3
No Commercial Value
By Davin Seay, pp 3, 46
---
Anyway, in this age of specialists I specialize in sitting around stoned and trying to draw comparisons between records, groups, album covers, what-have-you; and that's mostly what this is about, the records being Permanent Damage (Straight STS-1059), by the G.T.O.'s, An Evening with Wildman Fischer (Bizarre 6332), Trout Mask Replica (Straight STS 1053) by Captain Beefheart, and various Mothers of Invention albums. (read more)
Source: The Waldo Scrapbooks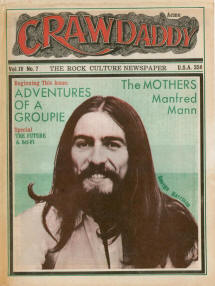 Vol. 4 No. 7
Alchemy, Hagiography & Hieroglyphics vs. The Teenage American Archetypal Theme
By Miles, pp 3, 31-32

Mothers Day With The Mothers
By Dick Lupoff, pp 3, 32
---
(1) Frank Zappa is chief Mother on the Hollywood hagiography, the conscience of the industry, the essence of West-coast pop, a rare fusion of the energies, creativity and ideas that make up the Big Beat which lives on.
Plotting in his cell, a crazed Artephius, Zappa preserves this vital energy, tends the nerve plants, stores the beauty in Canopic urns, de-fuses the explosives for later use and watches with mild dismay as fads and bubblegum music crash past his garden gate. He rarely goes out, preferring to stay in and grow the tapes, all at 15 inches per second. (read more)
Source: slime.oofytv.set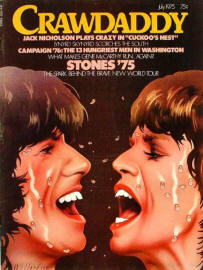 Zappa Downs Beefheart
By ?, pp 22-23
---


Captain Beefheart, fresh from his failed attempt at respectability has joined Frank Zappa's regular touring band. "He called me up last year and apologized." Zappa explained before a recent performance. "then asked me for a job. I auditioned him once and he flunked. He couldn't keep his rhythm together. I tried him out again and he squeaked past. He's currently in the process of squeaking past. I have to tell him exactly what to do. He doesn't have any trouble understanding what the concept is, it's just getting his body to do it. He's got a coordination problem." (read more)
Source: archive.org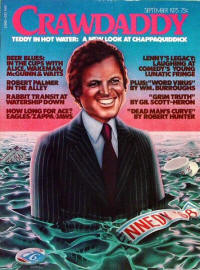 1975 September
When In Doubt Say 'Arf'
By John Swenson & Bart Testa, pp 73-74
---



For the last ten years, people have been trying to figure out whether Frank Zappa is a genius or an asshole. He is generally acknowledged as one of the most eccentric, if not the best, of America's popular music composers. Three years before the Moody Blues' much heralded combination at rock with orchestra, Days Of Future Past, Zappa had put together a much more challenging synthesis of classical avant-garde postures with a socio-musicological history of rock, an album called Freak Out by his brainchild Mothers of Invention. This was also the first album to feature integrated horn charts in a rock context, thus making it a primer for the more obvious synthesis later attempted by Blood, Sweat & Tears and Chicago. (read more)
Source: archive.org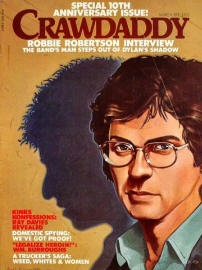 Trout Mask Replica / Uncle Meat
By Bart Testa, p 78
---


We are into essences here. Masterwork. Trout Mask Replica is nothing less than this century's answer to Edgar Allen Poe. (Who dresses these tormented types?) It's a little more folksy than Poe, and has references to more casual musical forms, but for the most part it's pretty artistic. Side four ended the relevance of TV and side three created a whole school of approximation. Alice Cooper, for example, has listened to side three and we know what will happen next. (read more)
Source: archive.org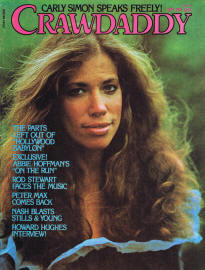 1976 September
Zappa's Post-Funk LP "Zoot" Suits Him Just Fine
By Jim Trombetta, pp 18, 20
---



Zappa was attending the Billboard Talent Forum at the Beverly Hilton in the hope of moving a two-year-old videotape of a Mothers show, called A Token of His Extreme. It has splendid animation by Bruce Bricktord in the manner of a nightmarish Gumby cartoon and represented a $200,000 investment to Frank, who had also brought to the convention mixes from his two forthcoming albums and the one he had produced for Grand Funk Railroad, Good Singin', Good Playin'. Like any good salesman, Frank was remembering visitors' names, whether or not they wore them on plastic badges. Offer him the power handshake and he'd return it; you could also get the traditional shake. It was your choice. (read more)
Source: archive.org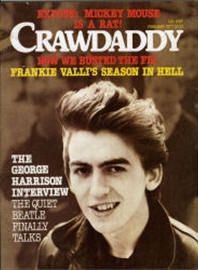 1977 February
Frank Zappa Gets The Mothership
By Bruce Malamut, pp 76-77
---


The primary philosophical conceit of Frank Zipper's outrageous musical preparations is and always has been that he goals on stoned white punk "youth culture" as bitterly as he does on their elders – America itself. And you. He puts you down like a furry Don Rickles. Once you learn to love it and, in that, transcend it, he changes direction and leaves you in his ugly dust once again. (read more)
Source: archive.org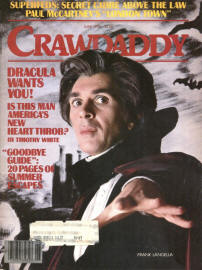 Plastic Man
By Andy Doherty, p 75
---


Recorded live late in 1976, Zappa in New York sounds as much like formula work as anything this character has ever foisted upon his public. Anyone at all familiar with Zappa's recent work could have guessed how many minutes this album would devote to audience-appeasing raunch, or what proportion of the concert would be extended in more cerebral endeavors. Even the infamous Zappa sneers could have been pencilled in beforehand. (read more)
Source: The Waldo Scrapbooks