DRUM!
The first issue of DRUM! came out in September 1991 as a free oversized tabloid, but changed soon to glossy monthly magazine. DRUM! was published until 2016 by Enter Music Publishing, Inc., who also published
DRUMmagazine.com
,
LEFT-RIGHT-LEFT
,
How To Play Drums
, and formerly
TRAPS
magazine. In 2016 Stringletter Publishing acquired
DRUM!
.
Print edition ceased by the end of 2019.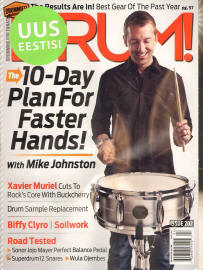 No. 202
Vinnie Colaiuta On "Keep On Greasey"
By Todd Bishop, pp 108-114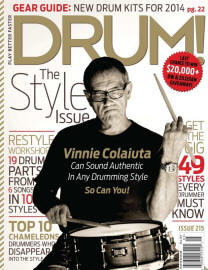 No. 215
King Of Styles Vinnie Colaiuta
By John Payne, pp 42-48