Daily Sundial
Student newspaper of the California State University, Northridge. Founded in 1955.

Vol. 12 No. 106
Zappa's Dream: Super Pool Of Musicians
By Pete Senoff, p 10

---
Within a space of 11 days this month, no less than six major rock groups were strongly threatening to break up and go their separate ways.
Indeed, such super influences as Cream, The Electric Flag, The Doors, Traffic, Blood Sweat & Tears and the Buffalo Springfield were ready to call it quits as groups and set to either retire or reorganize. Of these six so far, only the Springfield and Blood, Sweat & Tears have definitely followed suit, but you can bet the others are waiting … uneasily, biding their time for the right moment.
What's behind the mass shakeup? Can the music industry look forward to more of this in the future? To get some insight into the issue, I sought the advice of a Mother. Not my mother, but THE Mother, Frank Zappa. I cornered Zappa last weekend in the cavernous Shrine Exhibition Hall, moments before his band, the Mothers of Invention, laid siege upon the collective musical minds of Los Angeles and left then enthralled in a web of unexcelled mastery. (read more)
---
Full issue is available online at Oviatt Library Digital Archives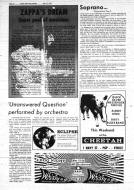 Source: Tom Z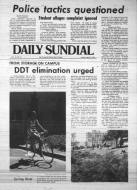 Vol. 14 No. 81
bePOPalua
By Pete Senoff, p 7

---
Last month's somewhat abortive "Switched-On Symphony" television program, apart from giving a troup of four or five out-of-work ballet dancers some network TV exposure, really didn't prove anything about the "new acceptability" of that medium.
Sure, acts like the Nice, Jethro Tull and Santana got some initial exposure, but at the cost of diluting their talents with such network-catered acts like Bobbie "I'm the King of Teen" Sherman and Jack Benny.
The program, in fact, turned Tull's Ian Anderson off to the world of symphonic rock (at least in the context of producer Jack Good's impression of such an amalgamation). But at the same time, the program seemed to have whetted the appetite of Zubin Mehta of the Los Angeles Philharmonic who, three weeks after the program, has decided he wants to try a similar occurrence live.
With the Mothers of Invention.
So, on May 15th at UCLA's Pauley Pavilion, Zubin and the boys in his band will be joined on the same stage with Frank and the guys in his group ... the original Mothers.
The main work to be presented and performed jointly by the two musical aggregations will be "200 Motels", a work commissioned from Zappa by the committee of the Holland Music Festival. The title stems from a continuous collection of "absurd things" Zappa has thought about in motel rooms prior to and after Mothers concerts. The final presentation (perhaps literally) on May 15th will include such components as: symphony orchestra, narrator, soprano soloist, dancers, a film on dental health, an industrial vacuum cleaner and a 16mm projector.
The finalization of this concert stems more from the L.A. Philharmonic's drive to archive a mod, swingin' image and attract a share of the young audience than from Mehta's new-found enthusiasm for rock-symphonic fusions.
Whether this one concert will make the symphony a mass-addicting experience for local swingers is open to speculation. But its purpose will more than be served by bringing the Mothers together for at least one more gig.
While on the subject of Zappa, please note that his other new group is not called Hot Rats any longer. Now they are CHUNGA. It's also the title of their next album, called "Chunga's Revenge."

---
Another source where Chunga band was mentioned is Daily Trojan, March 19, 1970. See also Chunga band 1970.
Source: Javier Marcote

1986 November 13
Vol. 31 No. 44
Frank Zappa Addresses Issue Of Censorship
By Scott Davis, p 9

---
A disgruntled woman, unhappy with last Wednesday's music and lecture performance by Frank Zappa, stormed the Northridge Center's stage and complained incessantly to Zappa, interrupting a recorded music interlude.
After trying to reason with her, the eclectic high priest of musical satire reached into his wallet and produced a bill: "Here's 20 dollars. Now go away."
Flustered and embarrassed, she took the money and left the stage after considerable jeering from the audience. (read more)
---
Full issue is available online at Oviatt Library Digital Archives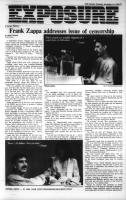 Other related pages from October 28, November 5, 21, 26.