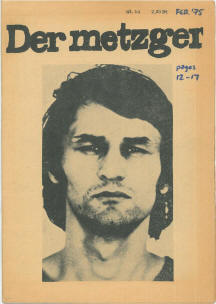 1975 February
No. 24
Win A M.O.I. Dream Date
By Walter Hartmann, pp 12-17
---
Walter Hartmann begleitete Frank Zappa auf seiner Deutschlandtournee und schrieb für den METZGER einen ausführlichen Bericht. Walter Hartmann ist seltener als Schreiber, häufiger als Gestalter tätig geworden. Zum Beispiel gestaltete er Buch-Einbände (Maro-Verlag), und der legendären Zeitschrift Gasolin 23, die er mit Jürgen Ploog herausgab, gab er ein Gesicht. Da lag es also nahe, daß er für seine METZGER-Reportage nicht nur den Text ablieferte, sondern auch das Layout.

Der Bericht in DER METZGER Nr. 24 gehört sicherlich zu den Highlights in der 45jährigen METZGER-Geschichte.
Automatic translation:
Walter Hartmann accompanied Frank Zappa on his tour of Germany and wrote for the METZGER a detailed report. Walter Hartmann is rare as a writer , become more frequent working as a designer. For example, he designed book - bindings ( Maro -Verlag) , and the legendary magazine Gasolin 23, which he edited with Jürgen Ploog, he was a face. It was only natural , then, that he not only delivered one of the text for his METZGER reportage , but also the layout.
The report in DER METZGER no. 24 is certainly one of the highlights of the 45-year METZGER history.
slime.oofytv.set:
the letter/card dropped out [from der metzger]; very interesting, i think it's a letter to dick barber from urban g[werder] he mentions calvin, canzus, taun & zark ... there's a couple of pics of dick barber in the magazine, one with urban & the moi

similar to the letter in ulcus molle
Source: slime.oofytv.set