Digital Audio
Digital Audio
was created by
Wayne Green
, first issue published in September 1984. Later in January 1989 the magazine was forced to change his name to
CD Review
. It ceased circa 1996. ISSN 0743-619X.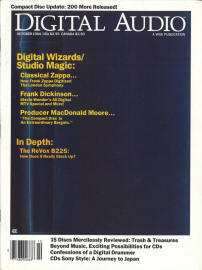 Vol. 1 No. 2
Modern Music Is A Sick Puppy
By Steve Birchall, pp 43-49
---
Sitting in his digital recording studio, Frank Zappa talks about how a creative personality approaches the studio. Along the way, he reveals how he makes use of his digital equipment – his extended musical instruments.
"A mixing console is just like a musical instrument," he declares. "And all these other things sitting on the wall here are tools that you use to make musical sounds." (read more)
Source: slime.oofytv.set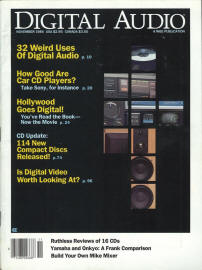 1984 November
Vol. 1 No. 3
Modern Music Is A Sick Puppy (Part 2)
By Steve Birchall, pp 44-47