Disco Actualidad
Initially a fortnightly, later monthly magazine, published by Heraldo de Aragon in Zaragoza. The first issue was published in April 1980. A total of 22 issues were published and the magazine closed in 1982.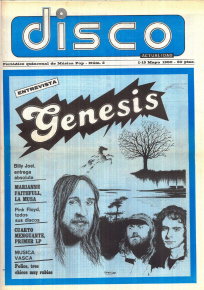 No. 2
Zappa "Joe's Garage Act I"
By Jorge Muñoz, p 25
---
Automatic translation: With quite a delay, when a few months ago Zappa published acts II & III as a double, the first act of "Joe's Garage" is published here, where Zappa "imagines" a story with Joe as the protagonist, guitarist, who wants to form a band, facing a series of problems that range from the typical problems that a rock group has, to the prohibition, by those in power, of music. (read more)
Page 4 has news that for Grammy Awards "Dancin' Fool" from Zappa's Sheik Yerbouti album has been nominated for Best Vocal Performance and "Rat Tomage" for Best Instrumental.
Source: archive.org