Discoscene
Discoscene was a monthly magazine published approximately 1966-1969. In October 1968 the magazine was renamed to [disco]Scene II. The magazine had regional variants and was printed with different names for radio stations in different cities.
Some of the original Discoscene magazines came with a Pepsi flexidisc.
"Discoscene did not have wide distribution. Thus, any issues are now few and far between. Even though printed on a much higher quality paper than your average fan mag, surviving magazines are extremely rare and even weak issues are much sought after by serious collectors." eBay.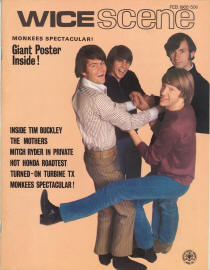 1968 February
Necessity Is ...
By ??, pp 18-19

---
There's something happening in the Underground. But no one seems to know quite what. Maybe it's because no one quite knows what the "Underground" is. Even the Underground's so-called unofficial spokesman, Frank Zappa, is unsure of the nebulous term. He observes: "Well, I don't know. During the war it meant someone who was in the resistance. Now I guess it means someone who is repulsive." (read more)

Source: slime.oofytv.set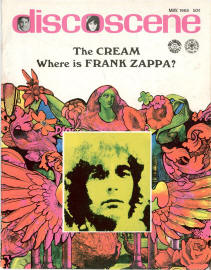 Where Is Frank Zappa? Part I
By ??, pp 20-23

---
This is part 1 of the 4-part interview published in May, June, July and August.
Us: Do you think there is a difference between the generations?
Frank: They say that today's generation is no different than any other generation. I can't think of any similarity between the social structure today and what's gone down in the past, especially with that thing where the parents are trying to imitate their children. It's really funny. You've got this very strange reversal going on, and people are just beginning to admit that it's there, and sort of laughingly discuss the possibility that mommy wants to look like her daughter. I don't know whether or not it's gotten to the point where daddy wants to look like his son, because there aren't too many fathers with long hair.
Us: What do you think of today's adult male, particularly fathers?
Frank: I think the father has been so emasculated in American society that he doesn't have the nerve to do anything about the things that annoy him. He's either playing it safe because of his job, or he's just allowed his wife or his girlfriend to take over his life for him. They keep track of his money; they keep track of his clothes; they make decisions for him that he should be making himself. They pretty much run his life. America has a chance of turning into a depressing matriarchal society. Of course that tendency always seemed to be there. (read more)

Source: slime.oofytv.set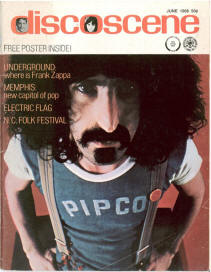 Where Is Frank Zappa? Part II
By ??, pp 10-13

---
This is part 2 of the 4-part interview published in May, June, July and August.
Us: In an article we read about The Mothers, you said one of your aims was to help the people who were trying to change society. How do you plan to do this?
Frank: The group and I plan to do it a number of different ways. If the youth of America get to say anything other than musically ...
Us: Don't hate us if we say this, but you are a very articulate person.
Frank: I won't hate you for that. I was asked to write a book for a publishing firm named Stein and Day; they've published Elia Kazan's book and David Frost's new book (entitled The English. Mr. Frost also initiated the controversial TV program a few years ago, called TW3 ... Ed.) Anyway, I was on the Alan Burke Show, and about a week after that the publisher called me up and asked me to write a book. I thought he wanted some rock and roll thing about The Mothers, but he asked me to write a political book. I was very flattered that somebody would ask me to do that, so I might just go ahead and do it. It would take a long time to finish it, though. (read more)
Source: slime.oofytv.set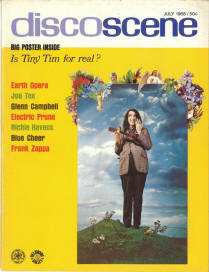 Where Is Frank Zappa? Part III
By ??, pp 18-20

---
This is part 3 of the 4-part interview published in May, June, July and August.
Beside this main article excerpts from "Readers Scene" are especially good:
* * *
Dear Ed.:
Your May issue was out-a-sight!! My friends and I thought the Manfred Mann story and the article on the Hassles were really groovy. The only thing I thought was a waste of time was the Frank Zappa story ( Where Is Frank Zappa ). We listen to our local rock and roll station all the time, and, believe me, those d.j.'s know where it's at!! And they never play any records by the Mothers. What is Zappa saying, anyway? We would rather see more on the Beach Boys and Paul Revere and the Raiders.
Nancy H.
Where is Nancy H.? ... Ed.
* * *
Dear Ed.:
My friend and I have had an argument. He says Frank Zappa's beard is real. I say it's painted on. Who is right?
Eli S.
You lose, Eli. Frank's beard is real. However, his mouth is painted on … Ed.
slime.oofytv.set:
pages 18-20 of wscr-scene are identical to pages 18-20 of discoscene july-68; page 4 of wscr-scene is different ... no zappa picture on page 4 of discoscene
Source: slime.oofytv.set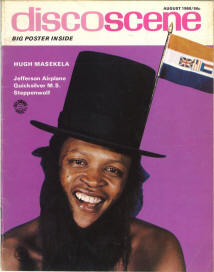 Where Is Frank Zappa? Part IV
By ??, pp 18-20