East Bay Express
The
East Bay Express
(founded 1978) is an Emeryville, California-based weekly newspaper serving the East Bay region of the San Francisco Bay Area. (
wikipedia
)
---
Conductor Kent Nagano taps his baton on the metal music stand, bringing the orchestra to a raggedly diminishing stop in mid-phrase.
"Second violins, one, two, three ... four bars before letter G, three short notes in every group of four. First part of the bar is behind, then more detached on the second half. I'd like a feeling of almost double- dot on the pick-up. Winds, I have you crescendoing until three bars before letter H, do you have that? Diminuendo right after the modulation."
To non-musicians or even to musicians without orchestral experience, these instructions sound like pure Greek. Yet the players of the Berkeley Symphony Orchestra note them down quickly and get set to play the passage once again. (read more)
Source: slime.oofytv.set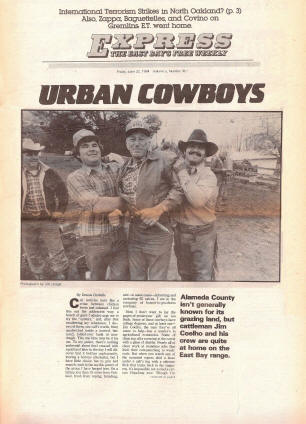 Vol 6 No 36
Zappa in Polyester
By D.S. Crafts, pp 15-16
---
For the second consecutive year, the single most significant orchestral event of the season has come, not from the more well endowed orchestras on either side of the bay, but from Kent Nagano and the Berkeley Symphony. Last year it was the production of Olivier Messiaen's Des Canyons aux Etoiles, a difficult "concerto for orchestra" performed at Davies Hall, with the elderly composer himself in attendance. This past weekend the orchestra took on the US premiere of four ballets by Frank Zappa.
That the concert even took place is extraordinary. There had long been rumors floating about that Zappa was busy writing music other than that which appeared on his rock albums—genuine orchestral music—but nothing ever appeared. Nagano contacted Zappa about a concert as early as two years ago and, after a while, his enthusiasm was sufficient not only to rekindle Zappa's desire to have the music performed, but to ask Nagano to conduct the London Symphony Orchestra in the premiere recordings. At length an actual concert in Berkeley was set for mid-May of this year in collaboration with the Oakland Ballet. When the ballet company decided to pull out of the project, Zappa, once again, soured on the concert and only Nagano's perseverance kept the production from being dropped altogether. The final concert date was pushed back a month in order to ensure sufficient time for the six weeks' worth of rehearsals demanded by the composer. (read more)

Source: slime.oofytv.set