El Musiquero
El Musiquero, a magazine for musicians, was founded in 1986 by the same publisher in Buenos Aires (Zafeta S.A.) as the popular music magazine Super Cantarock.
Note. A magazine of the same name was also published in Chile (1964-1976) and Spain (1973-1974).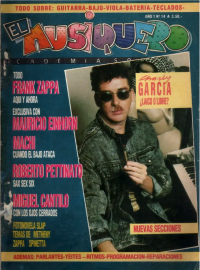 Vol. 1 No. 14
Frank Zappa: La revancha del sheik de las madres arranca la carne
pp 20-24

¿Buen uso de la guitarra o estereotipos?
By Frank Zappa, p 22

Él es lo que es (You are what you is)
Interview by Noë Goldwasser, Jim Aikin, Bob Doerschuk & Tom Wheeler, pp 23-24
Vol. 5 No. 59
Frank Zappa: Los Años Salvajes
By Andre Gill, pp 18-20, 22-25
---
The original article by Andy Gill was published in magazine Q, December 1989. Translated and adapted by Claudio Kleiman.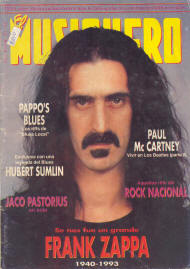 1994 February
Vol. 8 No. 90
La Nota De Zappa
By Marcelo Gasió, pp 28-34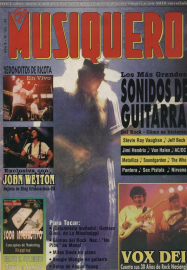 1996 November
Vol. 10 No. 123
Frank Zappa: Läther
By Claudio Kleiman, pp 72-73