El Musiquero
Jazz/rock magazine from Buenos Aires. El Musiquero was also a Chilean magazine, published in Santiago 1964-1976. The relations between these two magazines is not clear.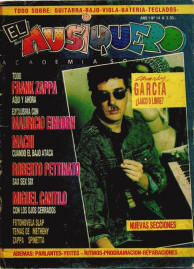 Vol. 1 No. 14
Frank Zappa: La revancha del sheik de las madres arranca la carne
pp 20-25

¿Buen uso de la guitarra o estereotipos?
By Frank Zappa, p 22

Él es lo que es (You are what you is)
Interview by ?, pp 23-25
Vol. 5 No. 59
Frank Zappa: Los Años Salvajes
By Andre Gill, pp 18-20, 22-25
---
The original article by Andy Gill was published in magazine Q, December 1989, translated and adapted by Claudio Kleiman.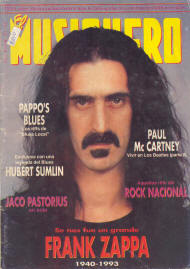 1994 February
Vol. 8 No. 90
La Nota De Zappa
By Marcelo Gasió, pp 28-34