Exposé
Exposé is a quarterly publication that had a modest beginning in 1993 as a supplemental monthly newsletter for John Szpara's syndicated Progressive Rock radio show "Exposure" (which at the time wasn't even on the air yet). By the second issue in early '94 the radio show was on the air, but Exposé was starting to take on a life of its own, reaching far beyond the confines of Exposure's airwaves. It also became evident that producing it every month was an unrealistic goal. In the years since the page count has increased and the frequency has decreased. Our goal today is to produce four issues each year. (
www.expose.org
)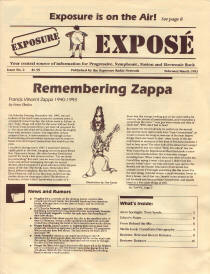 1994 February/March
Issue 2
Remembering Zappa
By Peter Thelen, 2 pp
---
...
Frank Zappa – Recommended Listening List
Where does one start when the artist in question has, by some accounts released up to 75 albums, mainly of them being multi-CD packages, with probably a few more to be releasedposthumously? I've narrowed it down to sixteen starters, easy entry points if you will – some may agree and some may disagree, but I think all will agree that this list represents some of his most inspired work, and in some cases his most accessible. Or you can just wait for the "Frank Zappa Complete" 200 CD box set!
Early Years with the Mothers, Mark I –
"Absolutely Free"
"Uncle Meat"
Early Solo.....
"Hot Rats"
With the Mothers of Invention, Mark II –
"Live At Fillmore East"
Instrumental...
"Waka Jawaka"
"Jazz From Hell"
Mid-70s period...
"Apostrophe/Overnite Sensation"
"One Size Fits All"
"Zoot Allures"
Eighties...
"Ship Arriving Too Late"
"Thing Fish"
"Guitar"
Live shows...
"You Can't Do That On Stage Anymore, Vol.2 – The Helsinki Concert"
"Broadway the Hard Way"

Source: slime.oofytv.set