Freak Out, U.S.A.
On The Scene Presents Freak Out, U.S.A! was published quarterly by Warren Publishing Company.
This is one of the rarest of all the Warren titles. Warren's best known titles were Famous Monsters, Creepy, Eerie, and Vampirella. This issue was a deviation from Warren's area of expertise. Freak Out was not a good seller. Consequently it is almost impossible to locate. (eBay)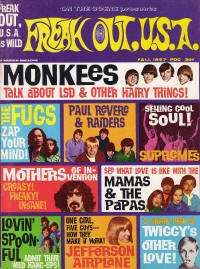 Vol. 1 No. 1
Mothers Of Invention: Strange People – Great Sound!
Exclusive interview, pp 50-51
---
"Why do you think the use of LSD has increased so rapidly in our society?" I asked.
"I do not believe we have a society," Frank replied. "What we have is a colony of animals. I don't believe there are any human beings around. We merely fantasize that we have reached the human level of achievement. The Bomb, war, prejudice are, however, only products of sub-humans.
"I am trying to use the weapons of a disoriented and unhappy society against itself. The Mothers of Invention are designed to come in the back door and kill you while you're sleeping. (read more)