Freakout
Freakout
was published quarterly by Health Knowledge Inc., New York.
Robert A. W. Lowndes was an American science fiction author and editor. In 1963, Lowndes initiated the
Magazine of Horror
(1963–1971) for Health Knowledge Inc. He published also many other crime-fiction, western, sports-fiction, and other pulp magazines. The collapse of Health Knowledge in 1971 ended these magazines. (
wikipedia
)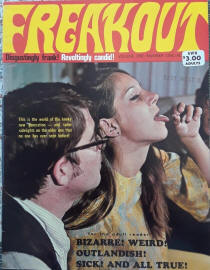 Vol. 1 No. 1
---
ebay seller:
Easily the rarest, coolest and most incredible of all the exploitation magazines from the 60s, this one takes the acid cake! Coming from the publishers of much of the sexploiation slicks and other odd magazines like Love-In and the many biker magazines this one is a slice of LA and New York with some San Francisco as well heavily focusing on the LA freak scene including Frank Zappa & the Mothers of Invention, Karl Franzoni, Vito and all the freaks that followed the Mothers at the time with tons of photographs of all of this. Pictures from Canter's, pictures of rock 'n' roll bands, pictures from clubs like the Sea Witch, Cee-Gee's, also The Infinite Mind, Head Quarters, The Bizarre Bazaar, Sidereal Time, Ephemera, The Gilded Prune, etc. Freak Outs, Freak In's, & Freak Offs plus lotsa looks at the Riot on Sunset Strip! Big article with amazing photos & illustrations on LSD (Why? Why not?)...Sunset Strip-Teenage Battleground w/photos by Irv Glaser, freakout flick Mondo Balordo, large photo article on Tod Browning's FREAKS, wild gore pictures-fiction featuring Titus Moede (Moody), underground cartoonist Ron Cobb, Gypsy stripper Gypsy Flame, big article on the art & life of main LA Freak Vito Paulekas. Weird article in Greenwich Village Pads (Bohemians & Beats and NOW Acid Heads!), the infamous GUAMBO (Great Underground Arts Masked Ball and Orgy) featuring Zappa & the Mothers (with photos!) and photos of all the Freaks great & small...freaking out of course! More strippers, Psychedelic Poster Art, Drag Queens & Monsters!!!
Source: Javier Marcote