Georgia Straight
The
Georgia Straight
was founded in 1967 as a biweekly underground newspaper. The title is a play on the Georgia Strait, the body of water that separates Vancouver Island from the mainland. (Confusingly, the city of Vancouver is located on the mainland, not on Vancouver Island.) The
Straight
is still published, as a free weekly newspaper. (
drdork
)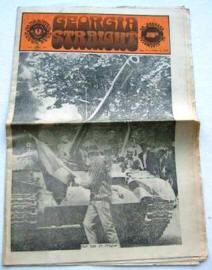 1968 August 30
Vol. 2 No. 27
Zappazappazappafrankzappa
By Town Fool, Al Sorensen, David Longworth, Voice from the Audience (VFA), Dan McLeod, Mouse, and Terry Mulligan, pp 10-11

---
FOOL: Are you going to Chicago?
ZAPPA: People who go to Chicago for fun and entertainment sure got the wrong thing in mind.
FOOL: Oh no, not entertainment … but is there any point in supporting the cause there?
ZAPPA: I don't think so because it's a phony cause. I don't believe in Yippies.
FOOL: Ed Sanders and the whole thing …
ZAPPA: I don't believe it. (read more)
---
All scans and comments: Newspaper Scans - 1968 08 30 Georgia Straight (drdork)
Source: drdork