Guitar
Guitar monthly, 187 issues in total, November 1983 – June 1999. Started as Guitar For The Practicing Musician. From February 1995 the name was shortened to Guitar.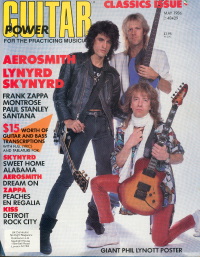 Vol. 3 No. 7
Zappa: Now And Then ...
By Steve Vai & John Stix, pp 50-53

Peaches En Regalia
By Frank Zappa, guitar and bass transcriptions by Andy Aledort, pp ?
---
We have from this issue only the article clipping. The Peaches' transcription page numbers are not known.
I remember then Guitar For The Practicing Musician (as it was called then) said "Next month: Tab for "Peaches En Regalia and (other songs I didn't care about). I was so psyched, I had a subscription. Well the next month come and there was a notice that the tab had been delayed another month, because, Frank himself wanted to check out the tab first and see if it was accurate! Which was cool, at least then you knew it would be.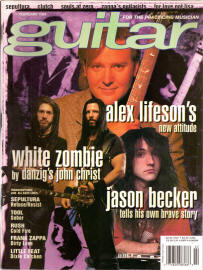 1994 February
Vol. 11 No. 4
Frank's Garage
Zappa's guitarists - Warren Cuccurullo, Mike Keneally, Dweezil Zappa, Adrian Belew
By HP Newquist, pp 24-26, 28, 30, 74

Dirty Love
By Frank Zappa, guitar transcription by Paul Pappas, bass transcription by Steve Gorenberg, pp 116-127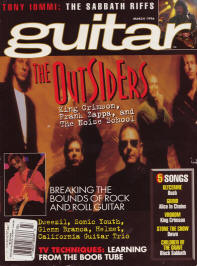 Vol. 13 No. 5
The Father Of Invention
By HP Newquist, pp 42-44

Pet Sounds: Z's Dweezil Zappa and Mike Keneally
By Mike Mettler, pp 46, 48

Warren Cuccurullo
By Brian Rabey, p 49

The Experimentalist Adrian Belew
By Jon Chappell, pp 36-39