Hej!
Short-lived Swedish magazine. Despite its impressive output of a whole 31 issues, its very brief release span between October 1968 only up to June 1969 pretty much made sure it never really got the time and chance to catch on and become widely known to its youthful sphere of interest. Covered the contemporary music-, movie- and youth culture. Many interesting and in-depth articles with a lot of great and unusual pics, both in black/white but especially in color - also with a great colorposter centerfold. (
nostalgiapalatset.com
)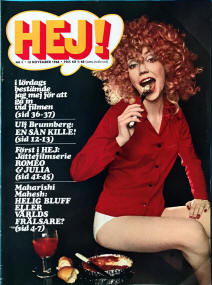 1968 November 18
No. 4
Zappa mördarnas fader
p 26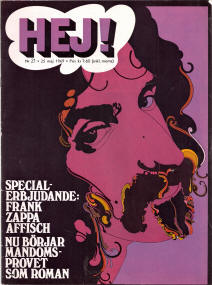 No. 21
Frank Zappa – världens bästa moder
(Frank Zappa – the best mother in the world)
By Lennart Wretlind, p 22
---
Translation by Lumpy Gravy @ zappa.com forums:
The article is written by a guy who became a well-known and legendary Swedish radio voice.
Front cover:
The text says: "Special offer: Frank Zappa poster"
and underneath: "Starting now: 'The Graduate' as novel"
Page 22:
The headline in red says: "Do you like Frank Zappa? If you do, you now have the chance to order our Frank Zappa poster." It says that the poster is 27.5"x39". Made by a Swedish guy Bengt Nystrm. Don't know anything about him.

The article itself:
"Frank Zappa – the best mother in the world. 'They look like old, supported, half-dead, pear trees'. This is how somebody has described the Mothers of Invention, and in particular their leader, Frank Zappa. but, no-one can actually blame Zappa for having picked the wrong package to represent the content. It is no coincidence that they look so shabby that no mothers anywhere would want to know them.

Zappa admits: "I had difficulties in the beginning to persuade the other members of the band that we should dress in a way that resembled our music. A couple of the guys are family supporters and naturally, they were worried in the beginning that they would look too ugly, going home to their wives and kids. After a while they agreed. Since then we have never had to argue about our clothes or the length of our hair."

The average age of the members of the Mothers of Invention is over thirty. An old age, compared to most other pop groups. "We can hardly try to look cute or sexy," says Zappa. "That's why we have gone for a kind of grotesque and unusual image. That's our method of selling us to the public."
Advertising is something Zappa is familiar with, after a couple of years working in that business. At the same time he had a night job playing in a dance band and had to dress in a white tuxedo jacket, black pants and black shoes. The most hip music you could imagine to play in that band was the occasional twist number.
Nowadays, Frank Zappa does not have to compromise in his music. After all the hard years he has been recognized as a brilliant talent. What does Zappa actually want to accomplish with his notes, sounds and words? Of course, like so many others, he wants to influence the world around him. "It's stupid to go out and fight in the streets," says Zappa. "It's smarter to make a 'sneaky revolution' and use media the same way they sell washing machines and loafs of bread to us. If you're smart you can use the system and, at the same time, attack it."

Apart from his ambitions to change society, Zappa, of course, wants his music to work. And it does. Zappa is a master at melting together totally different forms of music. he is able to laborate with rhythms and harmonies. He has, on his own, experimented with special recording techniques to be able to get unusual effects. The Mothers of Invention is a group of extremely skilled musicians. They are directed on stage by Zappa's strange signals. A little twitch of his hand means that one of them are supposed to burp into the microphone. Sometimes, Zappa jumps up into the air. That is a signal to the band to change tempo exactly when Zappa's feet hit the floor.
The listeners are really taken behind the scenes on the Mothers' latest album, "Uncle Meat." It actually contains an authentic recording of a police raid in the Mothers' studio. The intermezzo was grounded on a misunderstanding and ended happily.
Happiness for Frank Zappa may also be that he is a father. With his wife Gayle (sic), he has a two year old daughter, whose name is Moon. To the rest of us, Zappa is probably one of the best mothers in the world."
And then there's a coupon, of course, which you could fill out, send in and get the poster. The cost for it was less than a dollar...
The text to the left of the coupon says: "Order today! Limited edition!"
Source: slime.oofytv.set