Idolos del Rock
Monthly magazine Idolos del Rock was probably founded in 1965.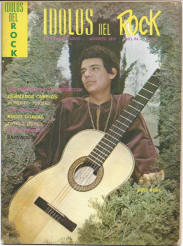 No. 64
El director de The Mothers of Invention se pronuncia contra las drogas
(The director of the Mothers of Invention speaks out against drugs)
By Joseph Matthews, pp 45-46

---

Por segunda ocasión, el apóstol del socialismo subterráneo, Zappa, se ha dirigido a los estudiantes ingleses en la Escuela de Economía Politica para incitarlos a que dejen las drogas.
Zappa es el director, o la madre superior, del conjunto norteamericano que goza de una gran popularidad en Inglaterra, The Mother of Invention. La madre superior es un excelente compositor de baladas modernas para ritmo estridente que hablan de las maravillas del socialismo subterráneo; algo así como un control que no sea control,· una sociedad donde todos estén atendidos, pero sin que se les atienda coartá ndoles su libertad. "Libertad pura y absoluta en la superficie y atención; real y efectiva en el subsuelo", según lo define Zappa, es lo que debe ser el socialismo subterráneo.


Respecto a las drogas, se pronuncia en contra de ellas, porque son un.a Jnanifestación de no-ser-alguien. Las considera como una cobardía en bµsca de heroicidad castrada ...
Algunos de los asistentes no están de acuerdo con sus tesis, pero le aplauden frenéticamente. Después de todo, es la madre superiora.
Google translate: For the second time, the apostle of underground socialism, Frank Zappa, has approached English students at the School of Political Economy to encourage them to give up drugs.
Zappa is the director, or the superior mother, of the North American group that enjoys great popularity in England, The Mother of Invention. The Mother Superior is an excellent composer of modern ballads for strident rhythm that speak of the wonders of underground socialism; something like a control that is not control, · a society where everyone is cared for, but without being cared for by restricting their freedom. "Pure and absolute freedom on the surface and attention; real and effective underground", as defined by Zappa, is what underground socialism should be.
Regarding drugs, he speaks out against them, because they are a manifestation of not-being-someone. He regards them as cowardice on the basis of castrated heroism ...
Some of the attendees do not agree with his thesis, but they applaud him frantically. After all, she is the Mother Superior.
Source: slime.oofytv.set