Jazz & Pop
Down Beat
's competitor, established as
Jazz
in 1962, "as a venture subsidized by record produced Bob Thiele and operated by his partner
Pauline Rivelli
" (Matthew Brennan). In August 1967 the name changed to
Jazz & Pop
to extend the coverage to rock, folk, and blues. Ceased in 1971.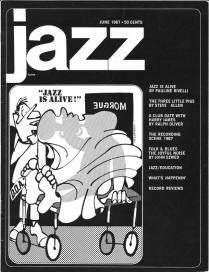 Vol. 6 No. 6
The Joyful Noise
By John F. Szwed, pp 22-23
---
For a brief period between March and April, the Mothers of Invention held forth at the Garrick Theatre in Greenwich Village. From a stage cluttered with two sets of drums, flutes, gongs, tympani, electric guitars, organs, saxophones, there issued forth a music of startling range and infinite variety. Most of all, they gave off a sense of joy of creation, a positiveness in the act of music. Like many musicians who work today in the idiom of rock 'n' roll, they show an excitement that once characterized the performance of jazz. (read more)
Source: slime.oofytv.set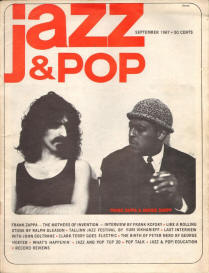 1967 September
Vol. 6 No. 9
Frank Zappa (Pt I)
Interview by Frank Kofsky, pp 15-19

The Scene
Frank Kofsky, pp 35-36

Another View Of The Mothers
Absolutely Free review by Frank Kofsky, pp 44-45
---
This is almost a Frank Zappa issue. Includes a cover picture of Frank Zappa and Archie Shepp; three articles by Frank Kofsky (small picture) – (a) a very interesting interview reprinted later in a book Rock Giants, (b) another article The Scene with many Zappa references, (c) Absolutely Free review; a photo of MOI with Archie Shepp; full page Absolutely Free ad; Hagstrom guitars ad on back cover.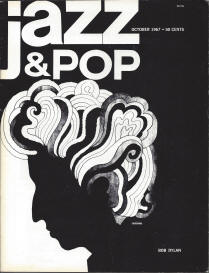 Vol. 6 No. 10
Frank Zappa (Pt II)
Interview by Frank Kofsky, pp 28-32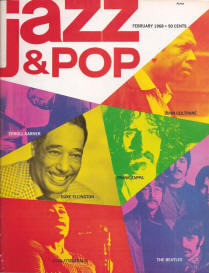 1968 February
Vol. 7 No. 2
Motherly Love
By Frank Kofsky, pp 34-35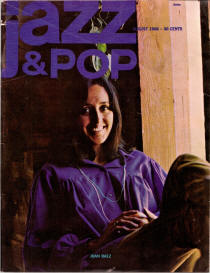 Vol. 7 No. 8
My Brother Is An Italian Mother
By Carl Zappa, 2 pp (30-31)
Full text at killuglyradio

Offer for an absolutely free copy of Absolutely Free w/subscription
---
It was about 10:30 p.m. on a Sunday, May 5, when I phoned Los Angeles to see if my brother, Frank had arrived from New York. The phone rang several times before anyone answered, but when someone did, it was Frank. It was good hearing his voice again, especially since it was only costing me thirty-five cents for the firths three minutes, plus tax. He told me about some of his latest business ventures, how glad he was to be back in California, and how bizarre his newly rented pad was. We exchanged greetings for our respective wives, and agreed to meet on Tuesday after he had gotten somewhat settled. (read more)
-------------------
slime.oofytv.set: Regional correspondent for L.A. is C.R. Zappa; same in the August 70 issue.
Source: slime.oofytv.set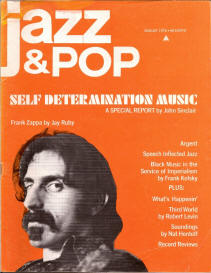 Vol. 9 No. 8
Frank Zappa
Interview by Jay Ruby, pp 20-24
---
Ruby: Tell us about what you're doing now, which excites me very much, and sort of the history of how you got involved with Zubin Mehta and what you're going to be doing on May 15th.
Zappa: That was brought about by a chance meeting at KPFK. I was with David Raksin. Do you know him?
Ruby: Yes.
Zappa: A very nice man. He was going to introduce me to Mehta because I'd been pissing and moaning about how hard it was to get a piece of music played by an orchestra. So he just sort of undertook to help me get that to happen. I met Mehta and Fleishman during this radio interview that was in progress at KPFK and we went in there and joined them and started yakking it up on the air. After it was over, I talked to Mehta for about ten minutes, during which – he probably won't remember – he commissioned me to write a piece of music for the 1971 season – just sort of offhand. I Said, "Well. I got this other thing that's been sitting around for awhile. Do you want to take a look at it?" (read more)
Source: slime.oofytv.set