KPFA Folio
Published in 1949-1997 monthly radio program guide magazine that was mailed to subscribers. (
wbai.net
)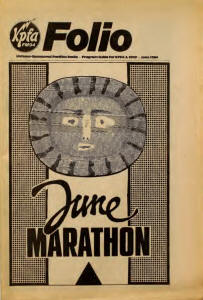 Vol. 36 No. 6
The Berkeley Symphony Plays Frank Zappa
By Terry Hawkins, p 7
---
When does a rock star cease being a rock star and become a serious composer? With the recent recording of orchestral works by Frank Zappa, such is the question that must now be asked of that iconoclast of iconoclasts. From the beginning, with such violently anti-commercial material as Return of the Son of Monster Magnet, Brown Shoes Don't Make It, Lumpy Gravy, and Weasels Ripped My Flesh, Zappa continually has attempted to not merely cross over the boundaries of rock music, but ignore them entirely. The early Mothers of Invention concerts were always a treat. One never knew what to expect: from an unadulterated Mozart piano sonata to a serenade to vacuum cleaners and chimes. Zappa would test the limits of the audience's endurance, and when that point had been reached, majestically raise his middle finger and bellow, "Is all you people want a fucking Motown beat?" and proceed to give just that. (read more)
Page 19
Saturday, June 16th
8:00 The Berkeley Symphony Live from Zellerbach
In a concert devoted exclusively to the symphonic works of composer Frank Zappa, KPFA launches the first of a series of live
broadcasts of the Berkeley Symphony Orchestra to be continued in July. Kent Nagano conducts the symphony in the works
he himself recorded with the London Symphony last year.
Bob in Dacron/Sad Jane.
Pedro's Dowry.
Mo and Herb's Vacation.
The first ballet, cast in two parts. Bob in Dacron and Sad Jane, tells the story of a would-be Casanova in polyester and his search for the ideally endowed woman. Sad Jane, the baglady, emerges from her cocoon a beautiful woman and begins her dance of life, at the climax of which, she explodes.
Hosted by Terry Hawkins and Charles Amirkhanian.
Source: archive.org/details/kpfafoliojun84paci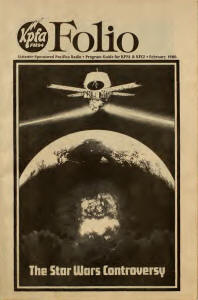 1986 February
Vol. 38 No. 2
Frank Zappa live on KPFA
p 7
---
On February 10, 1986, as part of it's fund raising marathon, KPFA dedicated an entire day of programming to the music of Frank Zappa. Four hour segment, when FZ was in studio with Charles Amirkhanian is available to listening – Frank Zappa Day.
On page 7 is article on FZ taken from the seventh edition of Baker's Biographical Dictionary of Musicians, edited by Nicolas Slonimsky and published by Schirmer Books.
On page 9 you can find the Frank Zappa Day program:
9:00 Frank Zappa Day

One of the most prominent figures in American music is the subject of today's broadcasting, produced by Charles Amirkhanian, assisted by Larry Bensky and Russ Jennings. As of this writing, Mr. Zappa has agreed to make an appearance at the station to take part in the proceedings from 7 to 1 1 in the evening.

Included today will be a sampling of the incredible new seven-disc set, The Old Masters, Volume One. This long-awaited release of the original early Mothers of Invention master tapes in digitally refurbished sound is a major revelation. Available only for the past eight months and only by mail order from Zappa's company, BARKO-SWILL (Box 5418, N. Hollywood, CA 91616-5418, telephone 818/PUMPKIN), the reissues reveal an enormous amount of sound material previously masked in the original LP's.

Included in Volume One are Freak Out (four sides), Absolutely Free, We're Only In It For The Money, Lumpy Gravy, Cruisin' With Ruben & The Jets, and a mystery disc containing rare pre-Mothers material and two singles never included in the early albums. The package is accompanied by a large booklet containing texts and historical material on the group.

Listeners also will be given an opportunity to hear the music from several recent controversial Zappa LP's including Frank Zappa Meets The Mothers of Prevention, The Music of Francesco Zappa (fl. 1763-1788: His First Digital Recording in over 200 Years, and other classics from Barking Pumpkin Records.

A number of other surprise recordings are in store, including the 1984 Berkeley Symphony performances of Zappa's music, digitally spiffed up by recording engineer Bob Stone of the Utility Muffin Research Kitchen staff and the art song commercials of 91 year old Nicolas Slonimsky, recorded on Zappa's Bosendorfer Imperial Grand Piano in November, 1985. This was made during the taping of a not-yet-released video documentary about Slonimsky which included the participation of Zappa, Amirkhanian and composer David Raksin.

Throughout the day and evening, various items dear to Zappaphiles will be liberally distributed to new subscribers from designer t-shirts to videotapes.

And during Mr. Zappa's appearance live on KPFA, he will talk with Larry Bensky, Amirkhanian and others about the recent governor's report in California on the alleged rise in youth gangs whose satanic practices arise from their exposure to punk music and heavy metal rock, and who amuse themselves by exhuming bodies in graveyards and holding "secret" meetings (which is why there is so little information about them in the news services at this time).

This and much more on Frank Zappa Day. One time only! Don't miss it!
Source: archive.org/details/kpfafoliofeb86paci