Kaleidoscope
Kaleidoscope
was an underground newspaper, founded by John Kois, radio disk jockey Bob Reitman, and John Sahli (a member of The Shags), which was published in Milwaukee, Wisconsin from Oct. 6, 1967 to Nov. 11, 1971, printing 105 biweekly issues in all. The paper's first issue was printed with a borrowed $250 in an edition of 3500 copies, which sold out in two days. (
wikipedia
)
Kaleidoscope archive -
UWM Libraries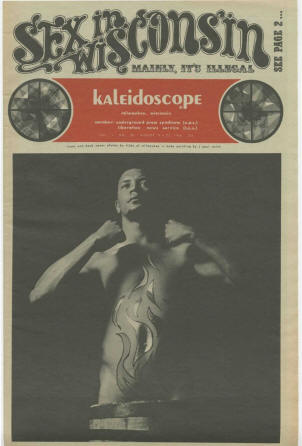 1968 August 9 - August 22
Vol. 1 No. 20 Issue 20
Zappa: Musical Trip
By Rich Mangelsdorff, p 22
---
This article by Milwaukee author Rich Mangelsdorff was an introduction to the Mothers of Invention four concerts in Milwaukee in August 9 and 10. The concerts ad is below article.
---
Frank Zappa has been called a genius and this is probably true, at least if scope of knowledge, use of materials and conception are the criterion you're using.
You could tell, even off of the Freak Out lp that this cat had eaten and digested all the rock sides ever made. He threatens to do the same for all world music. Impossible? Not if your ear and head are good enough and working together.
When it comes to working with extended forms and with non-rock materials, Zappa can't be beat. (read more)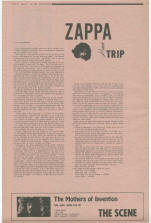 Source: Charles Ulrich, Steve Hecht, Drew51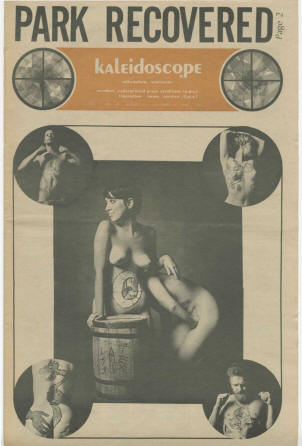 1968 August 23 - September 12
Vol. 1 No. 21 Issue 21
(1) Zappa Raps
Interview by Bob Reitman, pp 5, 18

(2) Mothers at the Scene
Review by Rich Mangelsdorff, pp 6, 19
---
The first article is a transcription of Bob Reitman interview aired in Milwaukee radio station WLOS. The radio interview is taped and you can get it here – 1968 xx xx WZMF Menominee Falls WI 13.14 FM 1ST (Bigdavej-Drew51) .
Second in this issue is a short concert review. The concerts were in August 9 and 10.
---
(1) Bob Reitman: We just picked Frank up at one of the Milwaukee hotels and here we are.
Frank Zappa: Hello. It's wonderful to be out of one of the Milwaukee hotels.
BR: How do you like being in Milwaukee?
FZ: It's a treat after being in New York for a week. (read more)
---
(2) Zappa and Company pretty well lived up to expectations at The Scene, especially when the audiences showed empathy. Not being used to playing before straight crowds (Zappa asked whether this was the only place in town where "name" rock bands played), Zappa harangued the spectators somewhat; he does that as well as he does anything else, so no time was lost, really. The lesson on "polytonality" was especially entertaining.
They did some of the shorter cuts from their lps, perhaps with less drive and verve than the originals. They put in a medley of some others and various free members of the band busied themselves constructing happenings about the stage. The long, instrumental jams were the high point of any set, the kind of thing which really steamed ahead, providing a fast moving panorama of musical wonders and events for anyone with the ears to appreciate.
This was probably the most educative group yet to appear at the Scene and we're hoping that they've paved the way for what is to follow. Once again the Scene has promised to bring in name serious-rock bands; once again, we say – DO IT!
---
Source: Charles Ulrich, Steve Hecht, Drew51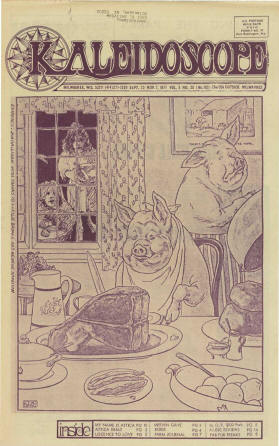 1971 September 23 - October 9
Vol. 5 No. 20 Issue 103
Fillmore East, June 1971 (review)
By Mark Lagerkvist, p 15
1971 October 28 - November 11
Vol. 5 No. 22 Issue 105
Zappa: Viewed / Interviewed
By Mark Lagerkvist, p 22
---
Despite two months of advance warning, Frank Zappa and his Mothers of Invention took Beer City by surprise.
A crowd of 5800 appeared at the Arena to see Zappa's troupe as well, as Fleetwood Mac and Rory Gallagher. Gallagher, backed by a bass guitarist and a drummer, shined on his lead and turned in a solid, crowd-pleasing set. Fleetwood. Mac, however, didn't quite make it. Between Kirwan's ego-antics and quantities of mediocre material, Fleetwood fell apart.
But at least the crowd knew what they came to hear. The stage area was extremely congealed, with everyone searching for a choice seat. Zappa placards began to appear. Anticipation. (read more)