Képes Újság
Képes Újság
(Illustrated News) was a weekly publication published from 1960 to 1990 in the Socialist Hungary by the Patriotic People's Front. The publication lasted until 2010. ISSN 0451-7490 (
oszk.hu
)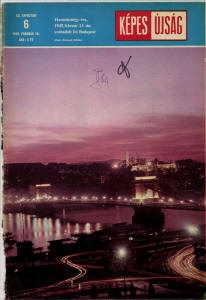 1979 February 10
Vol. 20 No. 6
Pop sarok
By Tibor Dévényi, p 29
---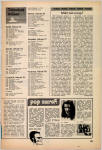 The conversation is about the new pop lexicon in Hungary. The previous lexicons were published in 1972 and 1973, and now a new one is being compiled. As always, A is like ABBA, the most popular band in the world, and Z is like Zappa, who is actively giving concerts again after a break of a few years.
Source: adt.arcanum.com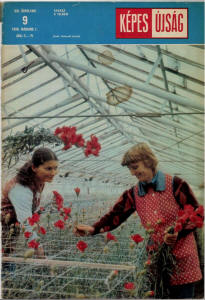 Vol. 21 No. 9
Pop sarok
By Tibor Dévényi, pp 29
---
Automatic translation: Forty-year-old Frank Zappa – the genius of underground music – appeared on West German television with a new show a few weeks ago. The title of his show of more impossible ideas was "The Mothers of Invention". When reporters asked him how long he wanted to do this madness, he replied: "As long as I can amaze my viewers!"
Source: adt.arcanum.com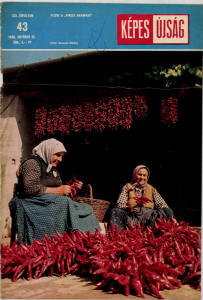 1980 September 20
Vol. 21 No. 43
Melódia - Mozaik
By Tibor Dévényi, p 29
---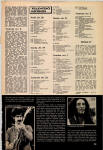 Automatic translation: A few days ago, I received many indignant letters when I presented our readers with a picture made by Frank Zappa. (Otherwise, the image was the image of the album cover, and it sold several hundred thousand copies on the internet.) With this, I just wanted to express the singer's truly repulsive, bizarre individuality. I am happy to announce that – at least apparently – Master Zappa is on the mend. He cut his hair and at the concert he plays more than scandalizing the audience. It's still a huge success. This is proof that he is a musician blessed with exceptional talent. Since there are fortunately enough extraordinary musicians in the world, he wanted to draw attention to himself with his special behavior. He succeeded in this. Now you can play music.
Source: adt.arcanum.com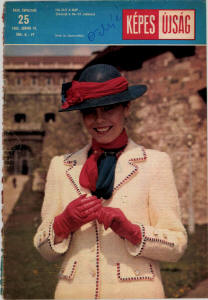 Vol. 23 No. 25
Melódia - Mozaik
By Tibor Dévényi, p 29
---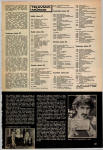 Automatic translation: As we have already indicated, Frank Zappa is also touring the continent. It has always been one of the significant and special aspects of the profession. His astonishing shows and his high level of musical knowledge won everyone's recognition. Perhaps in recent years his enthusiasm for bizarre ideas seems to have decreased. towards unconventional stage solutions. He lives in a luxury villa in England with his four children, and his favorite pastime is mixing different sound effects in his home studio – researching the future of electronics. In any case, his name still attracts thousands to his concerts in 1982. Zappa, the lone wolf, will always be at the forefront until this genre becomes fashionable.
Source: adt.arcanum.com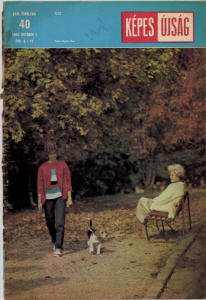 1983 October 1
Vol. 24 No. 40
---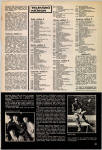 In the TV program stands: Sunday, October 9, 22:30 Frank Zappa in New York and elsewhere. Austrian film
Note. Frank Zappa: New York and Elsewhere is a film by Rudy Dolezal and Hannes Rossacher.
Source: adt.arcanum.com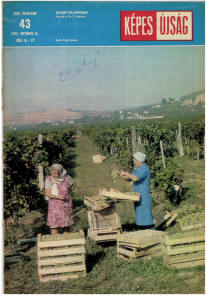 1983 October 22
Vol. 24 No. 43
Melódia - Mozaik
By Tibor Dévényi, p 28
---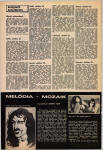 Automatic translation: We recently saw a portrait film on the television about the "prodigy" of rock, Frank Zappa. Many people inquired whether the famous musician could be expected to make a possible guest appearance in Hungary. For the time being, the domestic organizing bodies do not plan to invite him. Even though he's not on the charts lately, he's still one of the most sought-after (most expensive) artists in the world. Those who saw the film about him may have been a little disappointed in the star. The former scandal hero sometimes gave the impression of an embittered aggrieved "old man". Because it was at its best. He was always thinking about how he could offend those around him. However, he is a very talented musician, with a large myth and fan base. Unfortunately, there is little talent in this field, and it has to be renewed every year for an artist to be able to keep up with fashion. This is not going well for Master Zappa these days. It is only his hatred of the press and critics that flares up again and again – almost ridiculously. Only the one who moves on can stay on the field.
Source: adt.arcanum.com