Keyboard
Glossy American monthly for keyboard players. In addition to articles on equipment and instrumental instruction, there's lengthy interviews of more general interest. (
rojaro
)
Founded in 1975. During the initial years the magazine was named
Contemporary Keyboard
. Ceased in 2017, when
Keyboard
was rolled into
Electronic Musician
.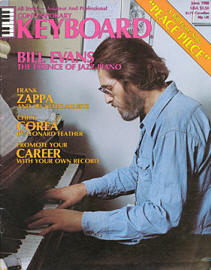 Little Band We Used To Play In (Frank Zappa, Tommy Mars and Peter Wolf interviewed)
By Michael Davis, pp 27-30, 32, 34, 36, 40, 56, 74
---
Frank Zappa has had such a varied career over the past 15 years that it's been rough keeping up with him. He's worn the hats of guitarist, composer/arranger, vocalist, producer, bandleader, filmmaker, and record company president and he has written and released music in many styles, ranging from doo-wop-era rock and roll to various improvisational contexts to totally scored contemporary classical music, gaining himself a substantial following and a lot of respect in the process. (read more)
Source: zappa.rockmetal.art.pl, The Waldo Scrapbooks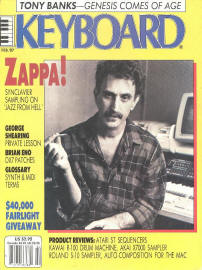 1987 February
Vol. 13 No. 2 Issue 130
Sample This!
Interview by Robert L. Doerschuk & Jim Aikin, pp 58-59, 61-64, 69-72, 74

Pervasive Polythythms in Zappa's "The Black Page"
By Jim Aikin, pp 66-67

Programming Perilous Polyrhythms
By Steve De Furia, p 117
---
Later this interview was reissued in A Definitive Tribute to Frank Zappa (Best of Guitar Player, 1994) under the title "Jazz From Hell".
The issue included a flexi-disc with The Black Page #1 on it.
rev_a_west @ eBay:
February 1987 - Keyboard - this is it folks, the rarest official Zappa Soundpage 7" music flexi ever released (and I'm talking about "official" release, not any boot euro recordings) - here's the deal we're dealing in: Frank Zappa on the cover with Zappa! Synclavier sampling on " Jazz From Hell " - a photo of Frank on the table contents page the inside the article Frank Zappa "sample this" large photo of Frank and a Zappa article spread over 10 pages - then "pervasive polyrhythms in Zappa's The Black Page" a two page article with the music to The Black Page #1 written out for those of yez who ever bothered to learn reading music - however for the rest of yez who can't sight read yez can hear the entire composition on the Keyboard magazine Soundpage #29 which was and is included (yeah, it really plays too). All yez need is a turntable and yez can place this Soundpage (i'd suggest on top of a crappy single, or at least remove your anti-static mat to place it on something hard and it'll play (it's recorded at 33 1/3 rpm) however it won't play if yez like an idiot cram it into a CD player (although it might almost fit) - also in this issue: Tony Banks - Genesis comes of age article with photo plus all kinds of ads for (now vintage) 1987 keyboards and music gear.
Mag scans
Keyboard magazine Soundpages 1
Keyboard magazine Soundpages 2
Source: zappateers, slime.oofytv.set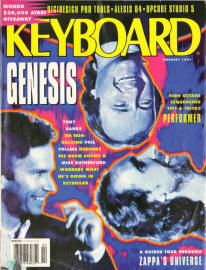 1992 February
Vol. 18 No. 2 Issue 190
Happy Birthday, Frank!
By Robert L. Doerschuk, pp 96-102, 104, 107-110, 168, 170
---
Zappa's Universe is a strange place, a surreal neighborhood peopled by pimps, crooked politicians, and Viennese music teachers. Lincoln Center abuts Joe's Garage; teeming streets trod by brown-shoed zeroes thread through a landscape pocked by airhead malls and lead toward Montana's flossy I fields. Kill-crazy militarists, totalitarian I moralists, housewives raving against free speech, and plain old horny bastards prowl, growl, threaten, and whine in a cacophony that somehow, against all odds, begins to sound musical after a while. (read more)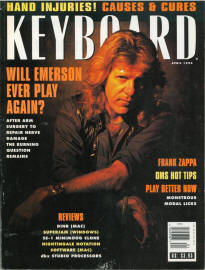 Vol. 20 No. 4 Issue 217
The Zappa Legacy
By Robert L. Doerschuk, pp 52-55, 57, 59-60, 62, 64, 67-68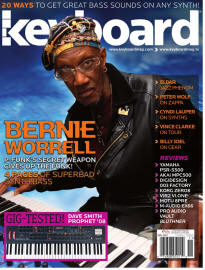 2007 November
Vol. 33 No. 11 Issue 380
Getting The Call, Giving It All (Peter Wolf interview)
By Mr. Bonzai, pp 38, 40
---
Between his roles as composer, producer, songwriter, and arranger, Peter Wolf has been directly involved in about $75 million in record sales, including eight #1 hits. Though classically trained, he won the soloist prize at the Austrian Jazz Festival at only 16 years old. In his early 20s, he moved to America and joined Frank Zappa and the Mothers of Invention. Add Jefferson Starship, the Commodores, Wang Chung, Heart, Patti LaBelle, Santana, and Natalie Cole, and you've only scratched the surface of his resume. Wolf is renowned for his film and TV scores, and his own project, PowerHaus, features some of the most A-listed musicians working today. We caught up with Peter in his home studio in the L.A. area. (read more)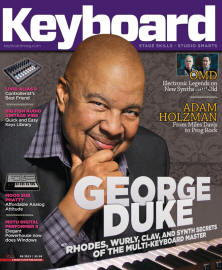 2013 September
Vol. 39 No. 9 Issue 450
George Duke - The Final Interview
By Jerry Kovarsky, pp 12-18

5 Ways To Play Like George Duke
By Matt Beck, pp 28-29