Knight
Knight: the magazine for the adult male.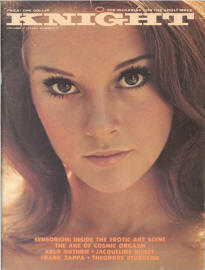 1969 November
Vol. 7 No. 7
Boss Of The Mothers
By Nat Freedland, pp 66-70
---
Inventor of the "groupies," creator of highly original rock music, this hairy genius is a legend in the Underground.
HE'S A GENIUS who disguises himself as a freak to get audiences for his far-out jazzrock music.
He's Frank Zappa and he called his group The Mothers—which intended a far funkier meaning than the "Mothers of Invention" tag that chicken recording execs stuck on their first album, Freak Out!, in 1965.
He looks like John Carradine portraying Edgar Allan Poe, with all that long black Shakespearean hair and the square patch of beard under his bandido moustache. But offstage, away from his deliberately created image of hairy evil, he is a calm, warm, rational husband and father whose quietly erudite conversation bristles with jargon like "aleatory music" and "chemical reality." (read more)
Source: slime.oofytv.set