La Scena Musicale
Bilingual magazine specializing in classical, jazz and world music.
La Scena Musicale
was founded in Montreal in 1997 by Wah Keung Chan and Philip Anson. It is published 10 times per year by the non-profit organization La Scène Musicale. The magazine has been distributed free at music schools and record stores in Montreal, Quebec City, and Ottawa. (
The Canadian Encyclopedia
)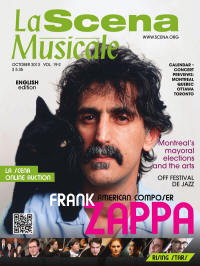 Vol. 19 No. 2
Frank Zappa, American Composer
By Réjean Beaucage, pp 4-7


---
badpatof @ zappateers: "New issue of Montreal magazine La Scena Musicale (a magazine about classical music and jazz) has Frank Zappa on its front page, and includes some texts by Rejean Beaucage (who used to do a radio series on CIBL-FM called Zappa de A a Z), with a focus on Zappa as composer. Kent Nagano interview bits in an article about Zappa links with Montreal follows, plus a text about Dweezil, who is touring Quebec this fall."
French
English