Lizard
Lizard is the only Polish magazine devoted to the broader progressive music – progressive rock, psychedelic, classic rock, krautrock, music, fusion, jazz-rock, jazz, free, funk, blues, soul, electronic music and post-rock. Quarterly magazine started in December 2010.
2012 Spring (March)
Issue 6
Waka/Jawaka & The Grand Wazoo
By Michał Wilczyński, pp 45-47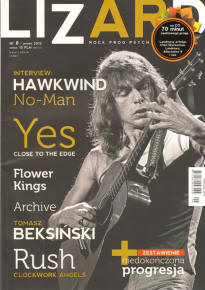 2012 Autumn (September)
Issue 8
Frank Zappa. Tasmy, Boxy & Roxy
By Michał Wilczyński, pp 30-31

Chodzi o ludzi. Chad Wackerman
Interview by Michał Wilczyński, pp 16-17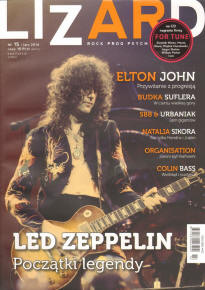 2014 Summer (June)
Issue 15
Frank Zappa. Road Tapes, Venue #2. Roxy by Proxy
By Michał Wilczyński, p 68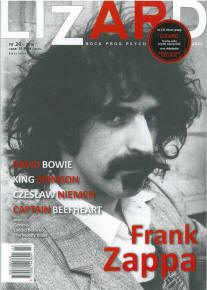 Issue 20
Koniec ery frikozoicznej
By Witold Zimowski, pp 20-22

Understanding America, czyli parę słów o Zappawersum
By Jacek Świegoda, pp 23-25

Replika maski pstrąga
By Bartosz Buchholz, pp 68-71

The Lost Broadcast: The Beat Club 68
Roxy The Movie
By Jacek Świegoda, p 99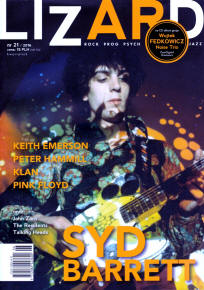 Issue 21
Freak Out!
By Aleksander Filipowski, pp 68-71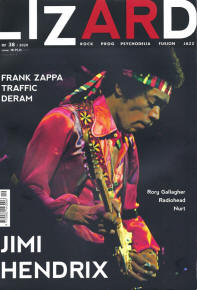 2020 September
Issue 38
Dyskretny urok muzycznej moderny (The discreet charm of musical modernity)
By Aleksander Filipowski, pp 66-76

---
Automatic translation: Frank Zappa's musical universe is a true melting pot of style, convention and aesthetics. Eclecticism was not only an immanent feature of his work, but also one of the determinants of his artistic strategy. This time, however, we will not explore the specificity of references to various types of popular music and jazz. We will focus fully on Zappa's various connections with twentieth-century modernity. We will take a closer look at what styles, compositional techniques and, finally, the creators influenced the development of his sound language. We are entering a difficult terrain. Cavernous discography, multiple tracks and a range of references – all this makes the topic very broad. However, it is worth paying attention to it, because "serious" explorations of Zappa are something unique in the rock world.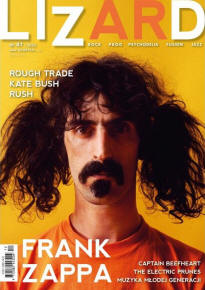 2022 December
Issue 47
Zappa/Beefheart: Współpraca wysokiego ryzyka (High-risk collaboration)
By Michał Pick, pp 44-49

In Concert: Frank Zappa
By Bartosz Leśniewski, pp 50-51

Frank Zappa Plays Grand Wazoo
By Piotr Chlebowski, pp 52-61

Frank Zappa: The Hot Rats Sessions
By Piotr Chlebowski, pp 62-63

Poradnik kupującego: Frank Zappa (Buyers guide)
By Bartosz Leśniewski, pp 96-97