Los Angeles Times
Daily newspaper published since 1881.

1966 August 7
Popular Records: Pass Aspirin, Please
By Pete Johnson, 1 p
---
The Mothers of Invention, a talented but warped quintet, have fathered an album poetically titled 'Freak Out' (Verve V-5005-2) which could be the greatest stimulus to the aspirin industry since the income tax. (read more)

This clipping is from Freak Out! The Official News of The M.O.I. , a 4-page paid advertisement in Los Angeles Free Press.
Source: Los Angeles Free Press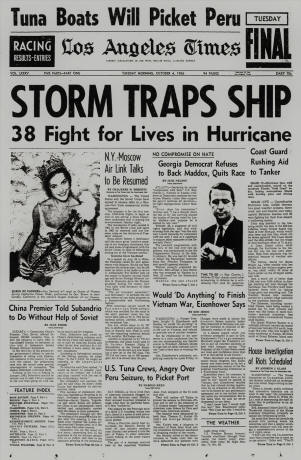 1966 October 4
The Mothers Are Something to See
By Charles Champlin, p IV-13
---
Maybe because school has resumed, the Sunset Strip seems marginally less a-crawl with young pedestrians these nights. Indoors, the pandemonium dial appears to have been eased back a notch or two from Flat Out.
Indeed, at Whisky a Go-Go, where last week a quartet called The Factory and a septet called The Mothers of Invention were in residence, still another socio-musical phenomenon was observable.
The goodly crowd ceased its madcap dancing when The Mothers took the stand. As their elders used to in the swing era, the audience crowded the dance-floor, but only to stand and watch and listen. (read more)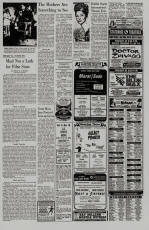 Source: Los Angeles Free Press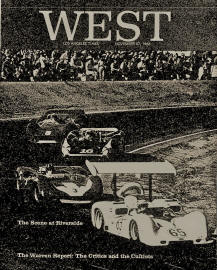 1966 November 27
WEST magazine
The Frenzied Frontier of Pop Music
By Tom Nolan, WEST magazine pp 37-39, 41-42
---
"Freak out! Freak out!" The cry echoes around the cavernous walls of this really remarkable scene at the Shrine Auditorium. Through the dimness, illuminated by an occasional flashing strobe light, you can pick out an extraordinary variety of people shuffling around in the dark: true hippies who peer through dime-size colored glasses at the swirling colors and drawings projected on the walls above, the skinheads, all the Coast Guard-types in their their square Madras sport shirts, down from Pomona to pick up some nice little teenyboppers. (read more)

Frank Zappa Zapped By 'Late Show'
By Deborah Caulfield, 1 p
---
Fox Broadcasting has booted Frank Zappa from his scheduled stint as tonight's guest host on "The Late Show" – and replaced him with a re-run. (Exactly which non-Rivers re-run hadn't been decided by press time, a Fox spokeswoman said.) (read more)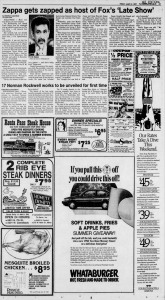 This clipping is from Arizona Republic, June 12, 1987, with slighltly edited version of this article.
Source: Los Angeles Free Press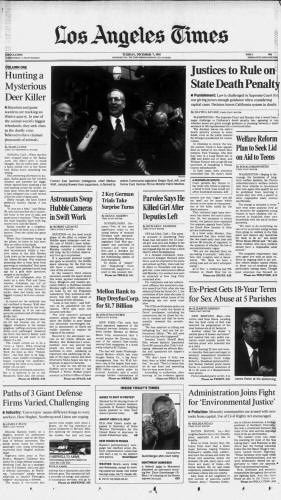 1993 December 7
Frank Zappa: A Maverick Pied Piper
By Daniel Schorr, pp F1, F5
---
It was the unlikeliest of friendships – between the avant-garde of music and the old guard of journalism – and it started in the unlikeliest of ways. Out of the blue Frank Zappa called me in August, 1986. (read more)
Source: Packard Goose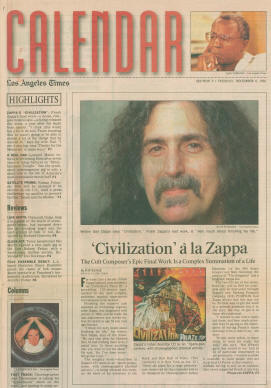 1994 December 6
'Civilization' à la Zappa
By Rip Rense, pp F1, F3
---
The same article with some revisions was published by The Milwaukee Journal in December 18. Read the full text.

Source: slime.oofytv.set