MM
MM was the leading Danish music magazine in the 70s and 80s, founded in 1969 by Jens Jørn Gjedsted.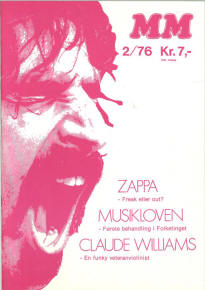 1976 February
Freak Out
Historien om en plade - eller: Da verden begyndte at flippe ud
By Jens Jørn Gjedsted, pp 4-7, 9

Frank Zappa på slap line
Ved I hvad en Klüsterspritzer er?
Interview by Lars Villemoes & Nils Fischer, pp 11-13

Koncerter
Falkonet Teatret, 29. marts, 2. koncert
By Jens Jørn Gjedsted, p 17
Vejlby-Risskov Hallen, 21/2-76
By Poul Erik Sørensen, p 17

Budskabet er bevægelse - fra freak til vareproducent?
(The message is the movement - from freak to manufacturer?)
By Robert Rasmussen, pp 18-19

Bøger
By Jørgen Bennetzen, p 36

Frank Zappa diskografi
By Michael Nørr, pp 39-41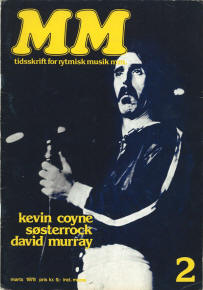 No. 2
Frank Zappa
Falkonet teatret, 17/2 1978, 2. koncert
By Jens Jørn Gjedsted, p 32
---
Concert review of the Falkonet Theater, Copenhagen show.
Late show
120 min, Aud, B-
Interesting show with many rare ingredients.
Titties 'n Beer (q: Ave Maria), Black Page (with dance contest), Jones Crusher, Little House I Used To Live In, Dong Work For Yuda, Bobby Brown, Envelopes, Disco Boy, Dancin' Fool, Peaches En Regalia, The Torture Never Stops (q: Mo's Vacation), San Ber'dino, Watermelon In Easter Hay, A Pound For A Brown, The Deathless Horsie, Stinkfoot, Baby Snakes, Black Napkins
Source: slime.oofytv.set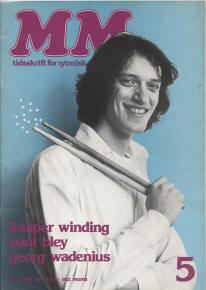 No. 5
Frank Zappa "Zappa in New York"
By Karsten Vogel, pp 28-29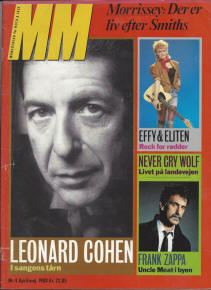 Musikkens Einstein
By Svend Thaning, pp 8-10

Frank Zappa: London Symphony Orchestra Vol. II (review)
By Lars Movin, p 35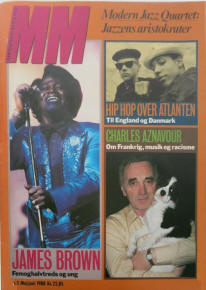 Frank Zappa: Falkonerteatret 25. april
By Lars Movin, 2 pp