México Canta
"Mexico Sings" was a popular Mexican rock weekly in 60s and 70s, influential in many countries of Central and South America, and some areas of USA.
The magazine
México Canta
was published from 1964 to 1975, in Mexico City, being a publication of Ediciones Latinoamericanas, the owner was Don René Eclaire, whose offices and workshop were located in Tacubaya. The size of the magazine was half a letter, usually with 52 pages printed in one ink (ochre) on wrapping paper, with the front and back cover in color. The regular price was $1.00 and the back issues were $3.00. Over time they included a poster, usually printed in 2 inks: yellow and black, size four letters, folded to include it within the magazine, for this poster they raised the price of the magazine to $ 2.00 It was a weekly publication and, in its best time, they threw 120 thousand copies a week. In its last period the magazine grew in size. (
Beto Cronopio
)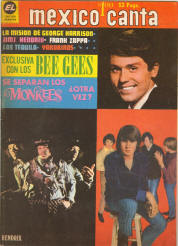 1969 January 27
No. 201
Frank Zappa: El terrible
?, pp 9-12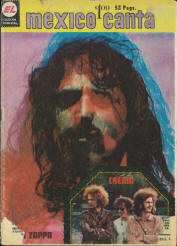 1969 March 17
No. 208
Frank Zappa
?, p ?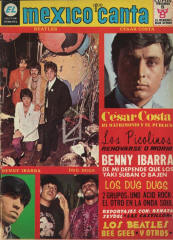 1969 December 6
No. 246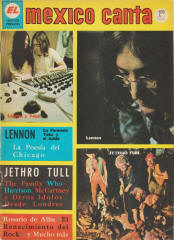 No. 328
De letra y musica (Lyrics and music)
By Rames Cavez, pp 12-13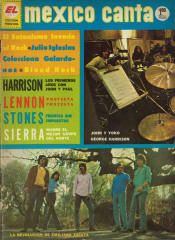 No. 332
No. 336
Frank Zappa se confiesa se queja llora y reir
By J. Rams, pp 12-13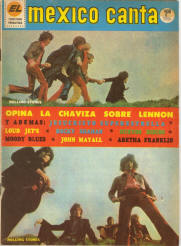 1971 August 13
No. 338
Woodstock!!! Love each other...
Interview by Javier Navarro, pp 40-42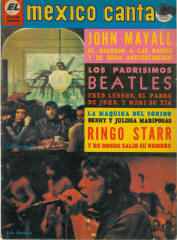 1971 November 12
No. 351
Woodstock!!! Love each other...
By Javier Navarro, pp 8-9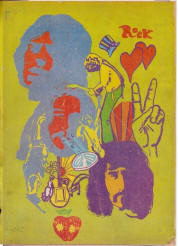 1973 February ?
No. ?
---
slime.oofytv.set:
Spurious front cover from "The Age of Rock"

this one is strange; front cover is the artwork, 'rock' with zappa bottom right corner; back cover appears to be a different page, you can see where it was cut/ripped, and it overlaps the front page

scan b is the inside front cover and page 3; i peeled the 2 pages apart a little up & down the center

scan c is the only place zappa/grand wazoo is mentioned in the whole magazine, has articles on alice copper & grand funk but no mention of fz, also articles on chicago, ccr, p.townshend/tommy, hot tuna

no dates, but their hitweek top 5 usa songlist is a close match to december-1972 i found, so this is probably from jan or feb 1973

i think the cover/page 2 may be from another issue and was glued on; same size, same paper type/quality, but it's not a real cover page
Javier Marcote:
Also is rare the ad on 1st page which is "'La Edad del Rock' (The Age of Rock) the only underground newspaper (August 1971)" with J.Hendrix on cover. I think the real "Mexico Canta" cover was missing & someone glued this cover & first page.

The back cover could be the "real one" of México Canta.

I think this issue belongs to February 1973. ( One of the weeks.)
Source: slime.oofytv.set