Miami Free Press
Miami Free Press
was a short-lived underground bi-weekly publication in Miami, Florida, founded by Jerry Powers in April and ceased in July 1969. In the same month the follow-up publication
Daily Planet
started.
On the last issue of
Miami Free Press
read
Noodleman
.
---
(1) Zappa-related part of the article:
To wrap up the jazz extravaganza, which, by the way, fell well short of the expected attendance, the "Mothers of Invention" performed.

Zappa with his incredible funny raps and beautiful music "tickled our fancy all night long."

Roland Kirk and Gary Burton who jammed with the "Mothers" is a superior set, fit in with the group perfectly.

Here's hoping it can happen here. The Jazz Festival was a groove and it opened up a few more channels of expression in Miami. I just hope that Miami's so hip, will support this event next year as they failed to do this year.
---
(2) Hollywood has always been famous for its' parties, mostly the plastic playboy ones. So, too, is Miami famous for its' swimming pools, bathing beauties and hotels. And so Sunday night in Miami saw just another one of those extravagant Miami parties. A tribe of Hollywood/Florida flippy hippies armed with champagne, oranges and acid, endeavored to experiment with some of the less subtle aspects of a homespun Hollywood party in Miami ... purely experimental, you understand. (read more)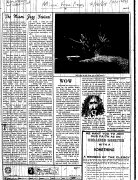 Source: Charles Ulrich